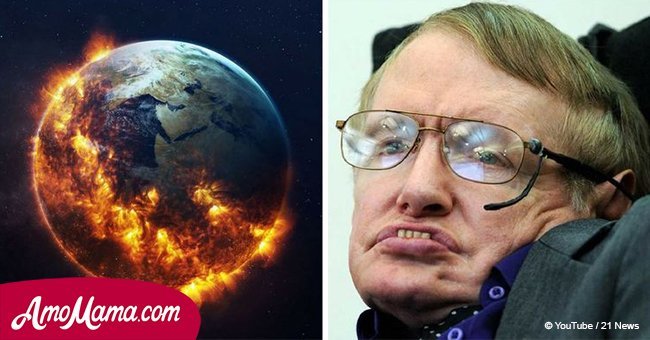 Before Stephen Hawking died he predicted the 'end of the world'. We should be worried
In the final days before his death, the brilliant physicist issued one last warning about what humanity is doing to the Earth.
Stephen Hawking passed away on March 14, 2018, but not before he made a prediction about how the world will end and what humanity is doing that could create great problems for itself.
As reported by Shared, Hawking was diagnosed with ALS disease at the age of just 21. Despite the pain he lived in for the next 55 years, he was willing to do so if it would allow him to continue working to change the world.
Confined to a wheelchair for most of his life, Hawking continued to look for the "theory of everything," a lifelong search that led to his life and work being immortalized in the 2014 biopic The Theory of Everything starring Eddie Redmayne.
But shortly after his death, plenty of people went back over Hawking's last works before his death, and uncovered a sinister message.
Just two weeks before he passed away, he was working on a mathematical paper in the hopes of proving the theory of multiple universes. In that paper, he predicted that the world would eventually "fade to darkness" as the stars run out of energy.
There is a belief among some that he had found another universe similar to that of Earth where he believed humans would be able to survive.
The paper is currently being reviewed and could potentially have earned him a Nobel Prize winner had he still been alive.
But that was not the only warning issued by Hawking recently. Just a few months before his death he warned of the dangers of overpopulation.
"This exponential growth cannot continue into the next millennium," he said. "By the year 2600, the world's population would be standing shoulder to shoulder, and the electricity consumption would make the Earth glow red-hot."
As a solution, he suggested that mankind find a way to inhabit another planet, such as Mars.
Please fill in your e-mail so we can share with you our top stories!