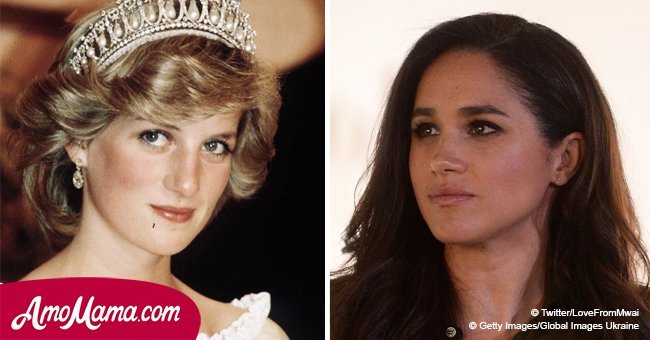 As per Royal tradition: here is the tiara Meghan Markle may wear on her Royal wedding day
The big royal wedding continues to make big headlines with fans all over the world now wondering what tiara would the royal bride be sporting.
According to New Idea, Meghan Markle will be wearing the royal tiara for the first time during her wedding as per the royal tradition - and she might be sporting late Princess Diana's favorite tiara, Cambridge Lover's Knot.
With the royal wedding between Prince Harry and the American actress Meghan Markle approaching soon, speculations about the couple's every little plan about the wedding have been rife.
One of the most talked about things about the grand wedding is the fashion statement that the Royals would be set in the spectacular event. Media reports about different kinds of dresses to various jewelry that will be sported by the royal family have been ongoing.
But one question above everything else has piqued the interest of media, fashion enthusiasts, and the fans of the royal family alike. Everyone wants to know what tiara would Markle be wearing during the big wedding.
And now it seems everyone is convinced that the tiara is indeed going to be Cambridge Lover's Knot, as per the online source.
The source quoted the diamond expert Grant Mobley as revealing that the tiara was a favorite of Princess Diana and one of the most iconic pieces that the People's Princess had ever donned. Definitely, wearing the iconic tiara would mean a lot to the couple.
However, Monley also disclosed a surprising fact about the tiara. "Surprisingly it's not an original, instead, it's a replica of an earlier tiara made for Queen Mary's grandmother – Princess Augusta of Hesse, the Duchess of Cambridge," the source quoted her as saying.
The beautiful piece was commissioned from the House of Garrard by Queen Mary in 1914 after the original tiara was sold at an auction at Christie's in Geneva in 1981.
Cambridge Lover's Knot was made up of 100 carats of amazing white diamonds. The exquisite jewelry has been worn by Kate Middleton as well but only for three times. During her own wedding with Prince William in 2011, she sported the Cartier Halo tiara.
Please fill in your e-mail so we can share with you our top stories!