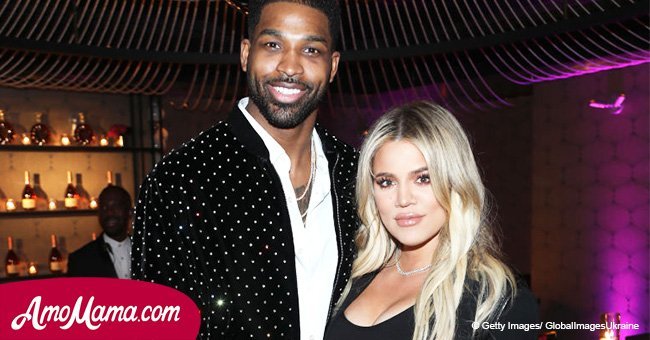 Khloe Kardashian's lingerie only pic in bed with Tristan Thompson shows baby bump in its glory

The 'Kardashian Klan' is well-known for taking almost every aspect of their life to social media. Khloe is not that different.
Ever since she announced her pregnancy, she has been posting as many photos as possible. While each of them has been cute, the most recent one has been labeled as the 'sexiest and fiercest picture yet.'
According to Hollywood Life, the black-and-white image shows Khloe, 33, on the bed with her boyfriend and the future father of their baby, Tristan Thompson, 27. The fact that attracted more attention was her outfit.
She was on her knees wearing a semi-sheer black bra, panties, and kimono that showcased her big baby bump while she was looking at Thompson.
He was laying on the bed with nothing but black sweatpants on while gently touching her leg and staring back at her. The image was uploaded to her website Khloewithak on March 22, 2018.
She captioned the image pointing out that being pregnant was one of the biggest dreams she's ever had. She added that even though 9 months seemed to be a lifetime while pregnant, the truth is that it is only a blink in the 'grand scheme of life.'
'I know I'm going to miss my belly so much once she's [the baby] here, I had to capture the beautiful process that is pregnancy so I can always look back at this time.'
Khloe Kardashian, Khloewithak, March 22, 2018.
Finally, she thanked Sasha Samsonova, the person in charge of such a special photo shoot, for making it as good as it is. She also showed her gratitude to her glam team, 'Hrush, Andrew, and Jill' for helping her look and feel like a 'goddess.'
Since the basketball season started a couple of months ago, the couple is staying in Cleveland so Thompson can show up to the training sessions.
It is very likely that the baby girl, who is expected to be born any day now, will be welcomed in Cleveland, as well.
Please fill in your e-mail so we can share with you our top stories!