Jennifer Aniston reportedly has secret night meetings with Pitt following her divorce
In the midst of their respective divorces, one close friend is allegedly finding ways to get Jennifer and Brad back together. 
Since announcing their separation from their spouses, Jennifer Aniston and Brad Pitt have been encouraged by their fans to get back together. And while many are rooting for this ultimate reboot,  the one who's really finding ways to make that happen is their good friend George Clooney, according to a recent report by Hollywood Life.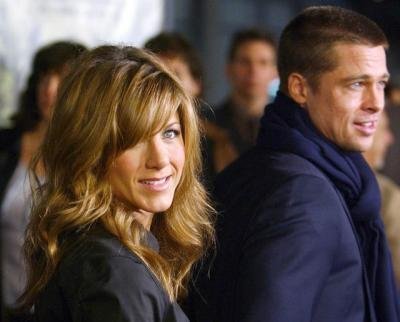 Sources for the publication have revealed that Brad and Jennifer have been secretly meeting up with the help of their pal George, who has been encouraging the pair to give their relationship another try. According to one source for Star magazine, when news of Brad's separation from Angelina Jolie broke, George was the first person to call him. The source added,
"After Jen and Justin [Theroux, 46] announced their split, he encouraged Brad to reach out and give their relationship another chance."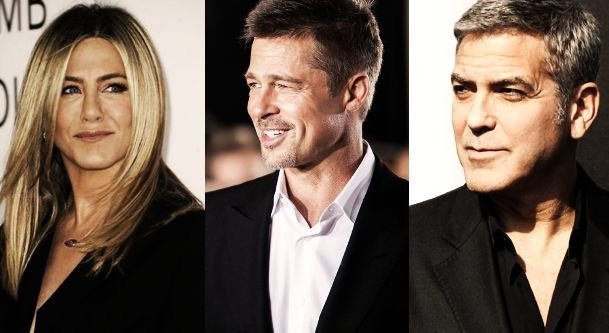 It seems George is really determined to get the two exes back together. He even allegedly facilitated a meet-up between the two on March 3 during a pre-Oscar party in Beverly Hills.  Jennifer even sent her car to bring Brad and George over to her Bel-Air home after the party. The source explained,
"The plan was to head over to Jen's place afterward for a nightcap, but, of course, George would just drop Brad off."
 The evening turned out to be "relaxed and low-key" according to the source who added,
"They reminisced about the past and had a lot of laughs. It seemed just like old times, but better." 
Still according to the source, the two realized that despite the fact that they had no regrets marrying Angelina and Justin, they "had a good thing when they were together – and still do."
While this story seems far-fetched with a representative for George denying the claims, the source insists Brad and Jennifer are ecstatic over George hooking them up but have been keeping things under the radar to avoid public scrutiny, especially since Jennifer only announced her divorce just a few weeks ago.
On February 15, Jennifer and Justin made the big announcement of their separation via a joint statement that read,
"In an effort to reduce any further speculation, we have decided to announce our separation. This decision was mutual and lovingly made at the end of last year. We are two best friends who have decided to part ways as a couple, but look forward to continuing our cherished friendship." 
The couple had been married for two and a half years but had been together for almost seven years.
Meanwhile, Brad and Angelina called it quits in September 2016 which led to a messy divorce and custody battle last year.  Since then, they decided to keep all their court documents private and have found an amicable arrangement for co-parenting their six children.