Steve Irwin's father found a touching note from his son, a decade after his tragic death
It has been a decade since the animal enthusiast passed away.
According to Jesus Daily, Steve Irwin's parents came across a letter written for them before his death.
It goes on to prove that the bond between parents and their children is filled with strength, patience, and an all-encompassing love. 
The famous crocodile hunter, Steve Irwin, passed away at a very young age, though his memories continue to live on.
On his tenth death anniversary, Steve's father, Bob, found a letter his son had addressed his parents, Bob and Lyn. 
Bob came across the letter kept in a sealed envelope between the pages of a book. In front of the envelope was a simple and moving message that read, 'Please be happy to know that your strength and wisdom have been passed on.'
The animal enthusiast had written a letter expressing his deep gratitude to his parents. He thanked them for bringing him up to be the way he was.
Steve had written the letter 12 years before his untimely death in 2006. Commending them on their remarkable strength, he called them his best friends.
'Probably one of the most unfortunate things in a 'Bloke's Life' is that it takes over 30 years to realize how essential you have been to build my character, my ethics and, most importantly, my "HAPPINESS".'
Steve Irwin, The Last Crocodile Hunter: A Father and Son Legacy, October 25, 2016.
He then spoke about his love for them and that he realized that throughout the good and bad times in his life, they were always there for him.
The moving letter also spoke about his character, his ethics, and his happiness that were all influenced by his parents.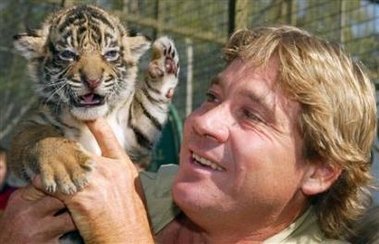 Bob shared the letter on Facebook and added a few words of his own. The tear-jerking letter and Bob's own inspirational words were shared by many on the platform.
Bob said that Steve was still with him and also took the opportunity to remind everyone of what he stood for.
The letter was discovered and published in Bob's new memoir, The Last Crocodile Hunter: A Father and Son Legacy.