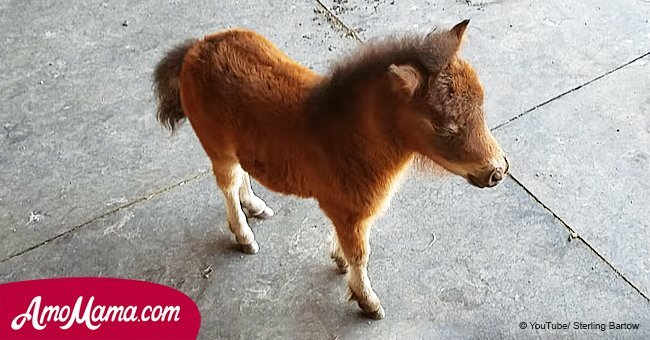 Have you ever seen a miniature baby horse? It's so adorable

A baby miniature horse has captured many hearts online.
Sterling Bartow stumbled upon the little horse while he was walking through a barn, as reported by Wimp.
He had noticed something was following him as he was walking. When he turned around, he saw a little baby horse.
A YouTube video of the adorable horse has been making rounds online. Miniature horses are found in many countries, but they are more common in Europe and the Americas.
They are usually less than 34-38 inches tall, as measured at the last hairs of the mane.
Generally bred to be friendly and to interact well with people, miniature horses are often kept as family pets.
They are also commonly trained as service animals to accompany people with disabilities.
Aside from that, they are also usually trained for driving, equine agility, and other competitive horse show type events.
Historically, miniature horses were first developed in Europe in the 1600s. By 1975, they were seen frequently as the pets of nobility.
Coal mines in England and continental Europe also used these horses.
Sadly, thousands of pet-quality miniature horses are sent to slaughter, according to Guide Horse.
The Guide Horse Foundation recommnets that one considers adopting an unwanted, abused or rescued miniature horse from a horse rescue organization.
Miniature horses, on average, may live one-thrid longer than large horses. Horses commonly live to be 25-35 years old.
Among the oldest living miniature horses was Angel, who lived with the Horse Protection Society of North Carolina. Angel, a dwarf miniature horse, died at an age of over 50 years old.
The smallest miniature horse in recorded history was a stallion named Little Pumpkin, according to Del Tera Miniature House Farm of Inman South Carolina.
Little Pumpkin stood 14 inches and weighed only 20 pounds.
But, according to the Guiness Book of World Records, the smallest miniature horse was called Black Beauty, who stood at 18.5 inches tall.
Please fill in your e-mail so we can share with you our top stories!