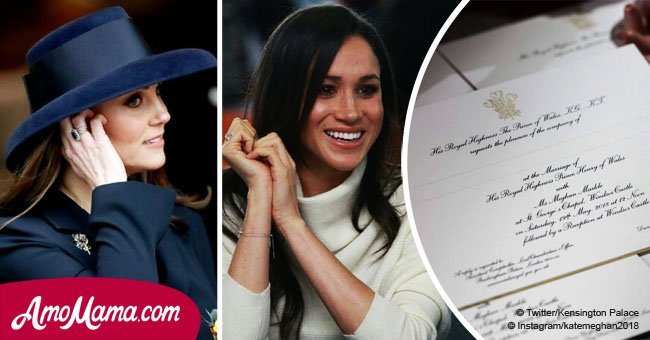 Duchess Kate and Meghan Markle have very different wedding invitations. Here is why

While Prince Harry and Meghan Markle's wedding invitations follow Royal tradition, it is still very different from Prince William and Kate Middleton's invitations.
The most noticeable change is stipulated on the invitations itself: For Prince William's wedding, The Lord Chamberlin was commanded by Queen Elizabeth to invite guests.
As reported by Inquisitr, Prince Harry's invitations have been issued by his father, the Prince of Wales, who request the presence of invitees at the ceremony on May 19, 2018.
Harry's wedding is less formal than William's because he is only fifth in in line to the throne, and will be sixth in line when William and Kate Middleton's third child arrives in April
Prince William is second in line, after his father, Prince Charles. Third and fourth in line are William's children, Prince George and Princess Charlotte, respectively.
Another minor difference between the two sets of invitations is that Markle is referred to as Ms., while Kate was referred to as Miss Catherine Middleton.
Experts say this is due to Markle being a divorcee. Markle was married to Trevor Engelson for two years from 2011 to 2013. They separated due to irreconcilable differences.
Ms. is also used to address professional women, which could refer to Markle's former career as an actor. She is most well known for her role of paralegal Rachel Zane in the drama series, Suits.
The invitations were also printed on English paper with American ink. This subtle detail is a nod to Prince Harry's English background, and Markle's US citizenship.
Experts estimate that the invitations cost approximately $10,000, including envelopes. They were printed on a 1930's machine affectionately named Maude.
Maude was named by Lottie Small, the printer responsible for the burnished and gilded invitations. She had recently completed her apprenticeship.
Please fill in your e-mail so we can share with you our top stories!