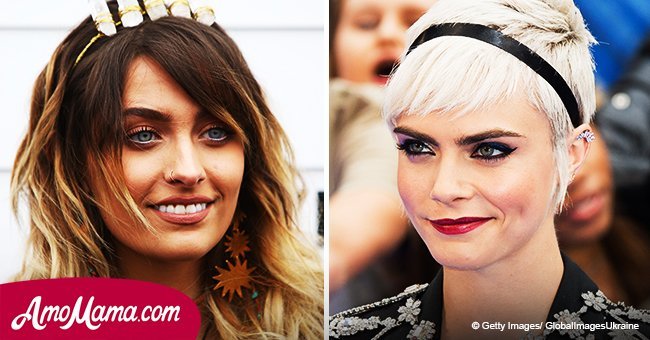 Paris Jackson confirms her romance with Cara Delevingne as they share a passionate kiss in public

The rumored lovers have finally revealed their romantic bond in a grand show of PDA during a double date with Macaulay Culkin and her girlfriend Brenda Song.
After months of fueling speculation surrounding their relationship, Paris Jackson and Cara Delevigne have finally put questions to rest with a recent show of PDA while on a double date with Paris' godfather Macaulay Culkin and his girlfriend Brenda Song.
Spotted outside West Hollywood's Carlito's Argentinian steakhouse, the 19-year-old heiress and her now confirmed lover treated onlookers to a romantic dance sealed with a tender kiss as cozy Macaulay and Brenda watched from the sidelines.
The loved up pair giggled and smiled as they took turns spinning around the pavement before leaning towards each other to share a passionate kiss. At one point, the 25-year-old British actress sat on Paris' lap while chatting with Brenda and Macaulay who's been a close confidante of Paris since her father Michael Jackson died.
Their PDA-filled night follows news of their love affair confirmed by Paris' recent Instagram post where she was relaxing in bed with Cara while watching the fifties-set lesbian film, 'Carol' starring Cate Blanchett and Rooney Mara. Paris even quoted the line "flung out of space" from the 2015 romantic drama which earned $40.3 million in the box office and used it in her caption for her Snapchat and Instagram Stories as she posed with her girlfriend she called her "favorite."
The couple have been spending time together for months now, circling the globe to solidify their love affair. They've traveled to Los Angeles, Italy, Prague and England where they were first sighted holding hands outside a nightclub in November.
Sparks flew immediately upon their initial meeting during the MTV Movie and TV Awards in May, a source for The Sun revealed last month.
"They really hit it off at the MTV Movie and TV Awards in Los Angeles in May [2017] and have been hanging out since...Cara is quite enamored by the fact Paris is the daughter of one of her musical heroes."
They also seem to hit it off because they share a lot of things in common, according to the Daily Mail. Aside from both being models-turned-actresses, they're also heiresses and Millennial millionaires.
While everybody knows Paris is one of three heirs of her late father's estate, Cara also happens to be entitled to a vast fortune courtesy of her grandfather Sir Jocelyn Stevens' publishing company. She's also the goddaughter of Joan Collins.
Before Cara, Paris dated drummer Michael Snoddy and soccer player Castellaw. Cara may be her first lesbian relationship and she's clearly smitten beyond words. Now that they're out in the open, there's no denying they've found each other's soulmates and plan to keep it that way.
Please fill in your e-mail so we can share with you our top stories!