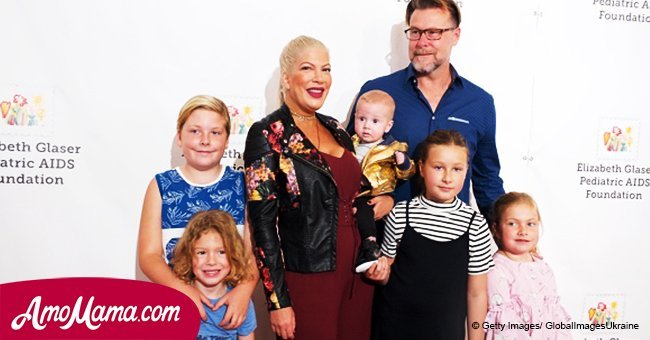 Tori Spelling and her hubby enjoy a family meal with their five kids amid their recent argument

The couple who's been experiencing turbulence in their marriage lately appeared surprisingly calm while dining with their children recently.
Tori Spelling and Dean McDermott have been dishing out one family drama after another these past weeks and seeing them peacefully dining out with their children recently was a relief.
According to the Daily Mail, on Thursday night, the McDermott's family of seven were spotted surprisingly calm while dining at Love's Deli. While Tori attended to the children's needs, cutting up their food and taking them to the restroom, Dean patiently sat at the table and ate his meal.
The tranquil scene was a far cry from the last time they shared a meal together publicly. On March 9, the couple were escorted by police officers out of the Black Bear Diner in Tarzana, California after getting into a heated fight that disrupted the restaurant's peace. Police were called to the scene but they left after resolving the problem.
This was not the first police encounter the couple had this month. Days before, officers were alerted to their home allegedly due to a "domestic incident." Upon arriving at the family's residence, police discovered Tori had called them worried about an intruder in her home who turned out just to be her husband.
A few days later, it was Dean this time who sought for the help of the police to check on Tori during a doctor's appointment. She apparently left with one of their children to catch the appointment but it was unclear why that worried Dean. With the police arriving at the doctor's clinic and discovering Tori was actually fine, they immediately left the scene.
Up to this day, there has been no official statement coming from the couple regarding the series of questionable incidences occurring between them. There's definitely signs of trouble in their marriage but their latest sighting seems to say otherwise and that's what's even more surprising.
Tori and Dean have been married since May 2006. The couple share five children – Liam, 11, Stella, 9, Hattie, 6, Finn, 5, and Beau, 1.
Please fill in your e-mail so we can share with you our top stories!