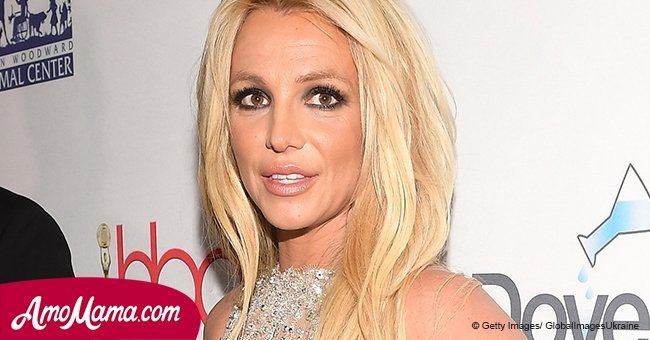 Brittney Spears shows off her tiny body in white shorts while working out in the gym
Despite being caught in the middle of a frustrating child support case with her lover turned foe, Britney Spears has never enjoyed her body more. A selfie makes it unbelievable that she's a mom of 2.
AmoMama shares with you details on Britney Spears' new-found love for her equally new body recently flaunted in a selfie she shared, according to a March 24, 2018, post by 'Inquisitr.'
Britney Spears has never been happier with the state of her body, even if her emotional and mental happiness are threatened by love turned sour.
She's proving trouble won't have the last say in her child custody case with ex, Kevin Federline, falling in love with herself for strength.
The 36-year-old, a mother of two kids, Sean and Jayden, shared a picture that summarizes her current pursuit and achievements with self-love.
In a hypnotic gym wear of a pink bra top and white shorts, it's clear why she is in love with her own body.
The outfit is expectedly revealing of her womanly assets as it is helpful in seeing the rewards of her new determination: fitness.
Her flat tummy, shapely legs, and abs are to die for, good complements for her natural beauty as shown in her cute joyful mien.
Spears' new-found love for fitness and health is quite impressive, considering her killing tour schedules and other commitments attached to her enduring singing career.
And in spite of the fact that she seems less loud than most trending singers today, that has not been an excuse for being less relevant.
Still on the 'Piece of Me Tour,' she isn't looking back on her achievements one more second, a major feat being her $34million 2017 earnings.
Add her former relationship with the father of her two kids, Kevin, who has been clamoring for more than the usual $20,000-a-month in child support.
It would seem she has decided once for all to get rid of the negative energy, seemingly handing over the matter to her father.
James Spears, her dad, has largely been the one challenging Federline's demands, with news of his interest in vetting his priority list for the money, freshly surfacing.
Instead, Britney is busy enjoying her body to stabilize herself and move on to better things, focusing on her life and current tour.
Please fill in your e-mail so we can share with you our top stories!