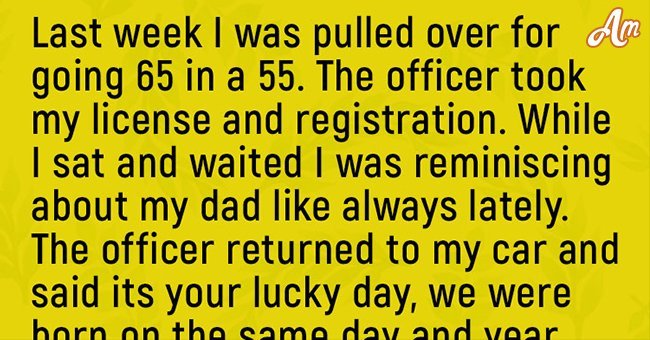 She was pulled over for speeding days after her dad died. Then cop sent her a heartfelt card

This woman was devastated over losing her father, but her spirit is lifted by an unexpected surprise from a police officer.
When Gina Headen, from Belleville, Illinois, realized she was being pulled over by the police in November 2015, it felt like the latest bit of bad luck in an especially dark chapter in her life, as reported by Providr.
When she handed over her license and registration to Deputy Dan Hill of the St. Clair County Sheriff's Department, she was thinking about her late father, who had died a month earlier, and wondered what he would have said.
She just lost her dad, Charles Penny, 75, on Nov. 11 after years of battling Alzheimer's disease. He was also diagnosed with kidney cancer in September, which is when he moved in with Headen, her husband, Steve Headen, and their three sons.
To her surprise, when Hill came back, he said, 'Today's your lucky day, we were born on the same day and year. Slow down and have a good day.' Walking back to his car he noticed she was crying so he turned around and tapped on her window.
'He asked me if I was doing okay,' Headen recalled. She told him that her father just passed. He said 'take a deep breath, your dad must have been a good man to have someone who loved him and cared for him so much', then talked to her for a few minutes.
The woman was touched by the sympathy deputy Hill showed a stranger during her traffic stop, but his kindness didn't stop there. A week later, he mailed her a condolence card.
The card read, 'My condolence on the loss of your father. I'm sure he was a great man who loved his family. I pray that your tears of sadness become tears of joy in remembering his legacy.'
Hill then quoted a Bible verse underneath his message to Headen. 'He will wipe away every tear from their eyes. And death shall be no more. Neither shall there be mourning, nor crying, nor pain anymore, for the former things have passed away,' the verse read.
She shared her experience with Officer Hill in a Facebook post saying 'I just thought people need to know there are good police officers out there who care for their community.' Her story has since been shared over 26,000 times.
Please fill in your e-mail so we can share with you our top stories!