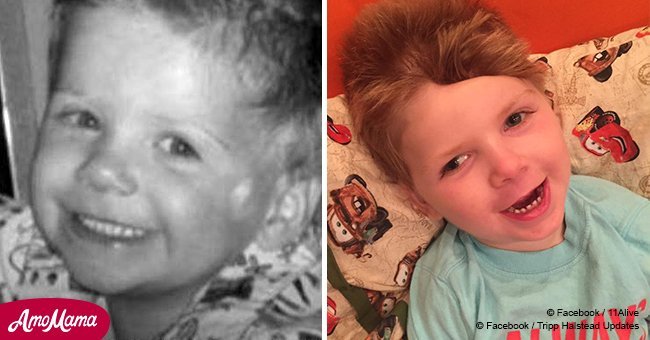 The boy who was struck by a falling tree branch outside his day care five years ago has died

The parents of a Georgia boy who was struck by a falling tree branch five years ago say he has died.
According to a God Updates report, Tripp Halstead suffered a severe brain injury in 2012 when he was hit by a tree limb outside of his daycare. While doctors expected the toddler to die, miraculously, the sweet boy kept fighting for several more years.
Bill and Stacy Halstead, the father and mother of 7-year-old Tripp, said on Facebook that their son died on March 15. Tripp's mother brought him to the hospital that Thursday morning after she noticed he was having labored breathing.
Doctors performed blood work on Tripp, did x-rays and gave him an IV. They also checked his oxygen levels, they said they were very low and carbon dioxide levels were high, and evidence appeared to show either pneumonia or mucus in the lungs.
"We are beyond devastated and honestly I believe I am in shock. Our amazing, perfect, beautiful miracle of a son, Tripp Hughes Halstead passed away at 5:47 pm today. He was our whole world," wrote Halstead in a Facebook post on March 15, 2018.
Tripp was 2 years old when the branch fell and hit him while he was on the playground of his daycare during Superstorm Sandy. He suffered brain damage, remained in a coma for weeks, and was brought home from the hospital nearly 10 months after the accident.
'The world as we knew it stopped on Oct 29, 2012,' Stacy said in a Facebook post that day. Since the accident, Tripp and the Halstead's story of facing great odds have resounded with millions of people worldwide.
At the time, it appeared as if Tripp wouldn't survive. Doctors told the parents that his brain had swollen, causing his body to shut down. But Tripp overcame the worst.
Over the years, the Atlanta community stepped up to help the family, including holding car-wash fundraisers. Volunteers even helped transform the Halsteads' home to make it more accessible for Tripp, who underwent at least 16 surgeries.
Along these past 5 years, Stacy has shared her family's story with the world, posting updates about the highs and lows on her Tripp Halstead Updates Facebook page.
His story inspired people across the nation and his Facebook fan page garnered over a million followers. Today, more than a million a half people mourn him.
Please fill in your e-mail so we can share with you our top stories!