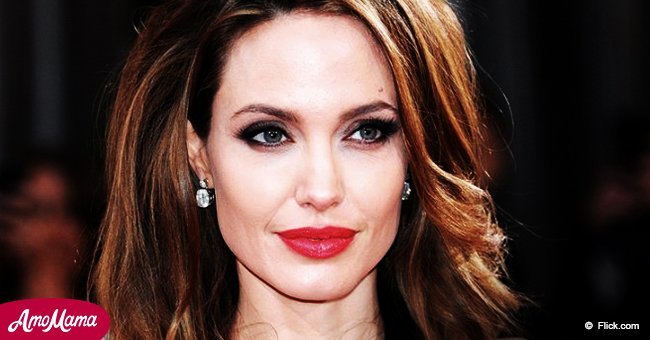 Angelina Jolie looks stunning in a knee-length black coat during her recent outing with son Knox
Nasty facts about her divorce surfaced the same way they died down. Perhaps they're one of the things Angelina Jolie is embracing with her age. An integral part of that is being a mom to 6 kids. She makes one stylish and fun mom to hang out with.
AmoMama shares with you details touching on actress Angelina Jolie's stunning look as she shares some time out with her son, Knox, at a Los Angeles pet store, according to a March 26, 2018, post by 'Daily Mail.'
No one really has to say Angelina Jolie combines honors in style, fun, and a distinct motherhood.
For whoever might not have known, however, the obvious fact registered for the first time on her recent outing.
That was while she went about treating her son, Knox, to a special day out to a pet store based in Los Angeles.
The admitted aging actress and Oscar awardee, 42, looked unbelievably beautiful in an all-black outfit accessorized with equally dark shades.
To complete her ensemble, she chose a knee-length coat, a good match with her neck top with trousers and a pair of matching shoes.
Slightly fatigued, a vibe belied by her shades, she's no less a beauty than she's always been with her chestnut hair pulled back from her face.
Jolie has to be a supermom to skillfully distribute her attention among her 6 children, two of whom she took on an outing recently.
It seemed then, that after she shared frozen desserts with Zahara and Vivienne just days ago, it was time to give Knox a treat.
That said, it's little wonder why she would take him shopping at a pet store more evidenced by the package her aspiring herpetologist son is carrying.
Knox is clearly thrilled that his mom made a purchase of snake bedding from the store obvious from his heart-warming mirth expressed in a smile.
He needs just that to add some life to his no-care casual outfit of a 'Tempest Trü Freedom' tee cargo pants and Nike sneakers.
It's a puzzle though, why the mom of 6 had separate outings with the 10-year-old and his twin, Vivienne.
Probably it had to do with her spending time with her boy, separate from the girls, Vivienne and Zahara.
For pictures of Angelina Jolie with her son, see Daily Mail Photo
Please fill in your e-mail so we can share with you our top stories!