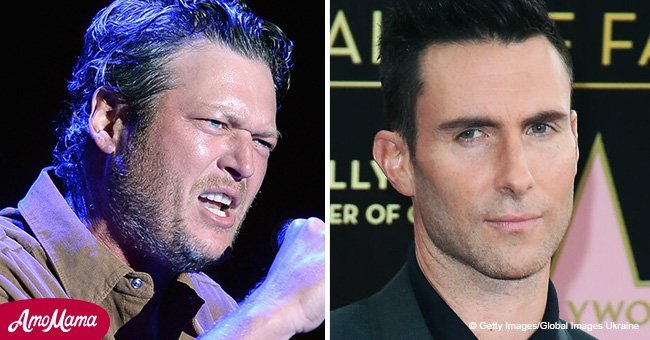 Blake Shelton pokes fun at Adam Levine's outfit choices in 'The Voice'. So is it really funny?

Fans often wonder if the humor and crazy vibe on set at 'The Voice' is real or part of the show
One of the things that has attracted the fans to The Voice - apart from the music of course - has been the hilarious back and forth, the teasing and the fun going on between the co-hosts/ coaches. It is what makes the show such fun to watch and keeps it lively and fresh.
How much of it is real, some may ask, and how much is scripted? Now the answer is here and it is hilarious and surprising. People.com has shared a blooper reel on the 28th of March 2018 and it shows fans that what goes on off camera and behind the scenes is even funnier than they imagined.
The camera caught Clarkson, Shelton and Levine backstage, where they tease him about his outfit: a leather jacket, black T-shirt and navy sweatpants with a red stripe down the side.
"I almost feel like you have some clothes for sale and you decided to go ahead and wear them … no matter if it matched or not."
Blake Shelton, People.com, 28th of March 2018
And Levine jokingly jabs right back at him: "This outfit cost more than your life." Shelton then went on to laughingly boast about his reigning title as PEOPLE's Sexiest Man Alive: 'Look how sexy I am. Look at me."
In response, Adam Levine and Kelly Clarkson dissolve into laughter and comment happily that luckily 'they' didn't know the real Shelton, or he would not even be in the running.
Clarkson jokingly begs for a glass of wine as consolation, even as she gives her contestants advice. She then confides in Shelton's contestant Jaclyn Lovey that they have the exact same birthday.
It's easy to see why The Voice is the longest running and most popular talent show in history, not only does it attract massively gifted contestants, it has the funniest co-hosts too.
Please fill in your e-mail so we can share with you our top stories!