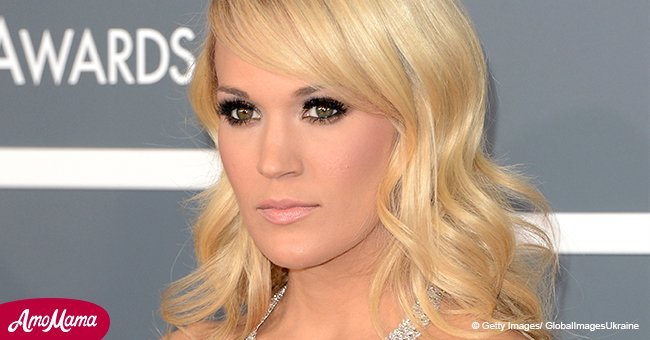 Carrie Underwood is reportedly suffering serious issues a few months after face injury
The country singer seems to be taking her face injury for the worse. She is reportedly a total wreck after the injury and the scar it has left on her.
Carrie Underwood has been apparently having nightmares because of it and is really having a hard time emotionally as she recovers. AmoMama gleaned details from Hollywood Life.
The 35-year-old American Idol winner has been struggling in coming to terms with how her facial injury now looks like. A source who revealed details of her recovery to Star, Carrie has been having trouble sleeping because of thoughts that plague her about her appearance.
"Carrie has been having nightmares. She hates looking in the mirror. [It] was an emotional roller coaster. She's felt like she was losing it. She's a total wreck."
Back in November 2017, Carrie had fallen from the steps outside of her home that left her with a broken wrist and "some cuts and abrasions." She needed to have 40-50 stitches. She wrote a letter to members of her fan club and penned:
"There is also another part of the story that I haven't been ready to talk about, since I have still been living it and there has been much uncertainty as to how things will end up. It's crazy how a freak random accident can change your life."
The change includes a change in her appearance. Fans have noted that while she does post a few photos of her face on Instagram since the accident, her visage is turned away from the camera or obscured by something.
"She's been so secretive. It's turned into this huge guessing game. There's so much intrigue."
While only time will tell whether Carrie will finally feel comfortable enough to reveal her post-injury face, fans won't have to wait too long because she has confirmed for CMA Fest over the summer. She will most likely reveal her face in June, which will be her first big performance since the fall.
Join us in the comments below and tell us what you think about Carrie having emotional scars and not showing her face yet.
Please fill in your e-mail so we can share with you our top stories!