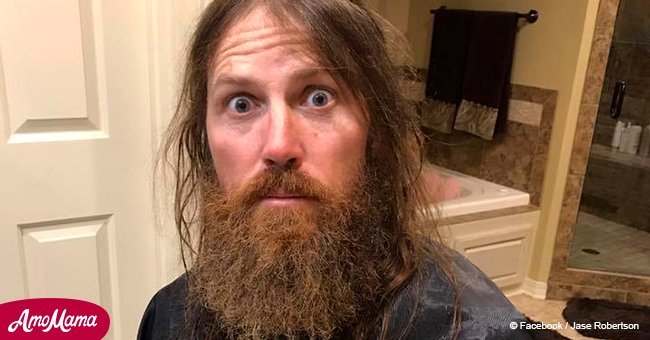 Jase Robertson from 'Duck Dynasty' shaves off his beard for charity

This Duck Dynasty star willingly let go of his cherished hair and bear to help children with cleft palate.
Jason Robertson was able to raise $100,000 in donations to help these children to undergo much-needed surgery, as reported by Shared.
Jason encouraged donors to set aside money for the Mia Moo Fund by agreeing to shave his beard and cut his hair if donations reach $100,000.
Jason and his wife, Missy, have a daughter who was born with cleft lips or palates. She underwent six surgeries to treat his condition.
The donation page read: 'Who, besides Missy, would like to see a clean-shaven Jase? Did you know he has those famous Robertson dimples?'
The page went on to share more trivia about Jason. It shared that before filming demands of Duck Dynasty, he would shave the day after duck season ended each year before growing it out in time for the next duck season.
It has been seven long years since he has shaved, the page also shared.
Apparently, many fans are dying to see a clean-shaven Jason. The Mia Moo Fund was able to get $100,000 in donations.
A time-lapsed video of the Dynasty Duck star getting trimmed and shaved was posted to his official Facebook page. It showed him surrounded by many hairdressers.
Jason looked 20 years younger after the makeover. Fans were surprised and delighted to see his new look.
Duck Dynasty, which portrays the lives of the Robertson Family, is a hit reality television series on A&E that has broken several ratings records on cable television.
The Robertson Family became successful from their family-operated business, Duck Commander, which makes products for duck hunters.
Phil and Marsha Kay Robertson run the business with their five children: Willie, Jason, Jules, Marshal, and Silas.
The family is known for being deeply religious. They hold conservative Protestant Christian views.
Please fill in your e-mail so we can share with you our top stories!