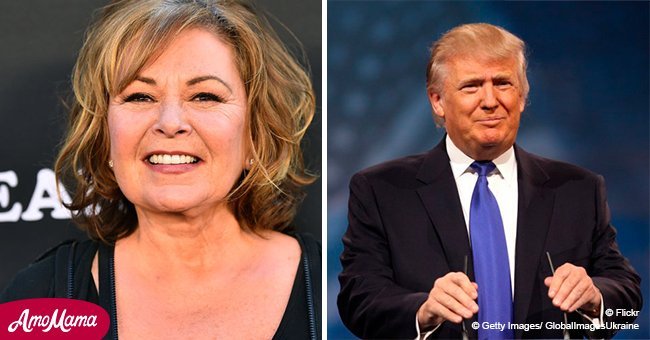 Donald Trump personally called Roseanne Barr to congratulate her for the ratings of her show

Some shows make history, whether it is due to being funny, dramatically touching or even very life-like. Nowadays, reality shows rule because of the latter.
But, although most people love a good love story or an entertaining and amusing sketch, they want to feel connected to what they are watching. Roseanne Barr's show, Roseanne, which premiered in 1988, did just that.
The show originally ran from October 18, 1988, to May 20, 1997, and it was broadcasted by ABC. Now, in 2018, the show came back to life and Donald Trump was the first one to congratulate the actress, as reported by Fox News.
It is unknown whether the President of the United States was a fan of the show before becoming the leader of the American people, but he reached out to Barr for a simple reason.
The character that she plays on-screen, Roseanne Conner, her alter-ego, was portrayed on the show's reboot as a Trump supporter, which certainly pleased the mogul.
According to the source, Sarah Huckabee Sanders, the White House Press Secretary, told the New York Times that Trump wanted to personally congratulate Barr on the successful relaunch of the series.
The first episode made its debut on Tuesday, March 27, and drew 18.2 million viewers, numbers that surprised the United States President, especially considering how long the show was off the air.
As reported by Fox News, politics were briefly mentioned during the episode. Much like the character that she plays on the show, Barr is a Trump supporter, which created a good contrast with another member of the cast.
Laurie Metcalf, the actress behind the role of 'Nasty Woman' Aunt Jackie, has always been a fan and a supporter of Hilary Clinton, and she lent that same trait to the character to her character, leading to a couple of funny interaction between the two on and off set.
Please fill in your e-mail so we can share with you our top stories!