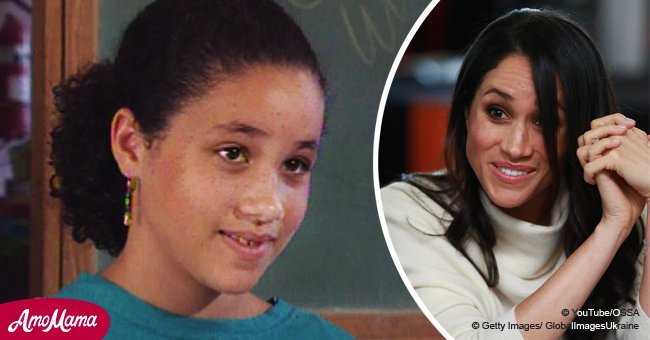 Never-before-seen video where Meghan Markle plays Queen at age 8
The soon-to-be bride played a royal in her childhood.
A home video from 1990 shows a young Meghan Markle playing queen at a friend's birthday party, reported Pop Culture.
Long before she was engaged to real-life royalty, Meghan Markle once experienced what it is to be a queen at the age of eight.
The homemade movie, now nearly three decades old, showed Markle and her friends acting in an improvised story titled, Your Royal Highness.
In the movie, the queen is surrounded by her friends who play intrepid princesses.
The little one probably had no idea that the fantasy would one day come true. She will marry Prince Harry on May 19. The couple got engaged in November 2017, after more than a year of dating.
If the movie is a glimpse of how Markle will conduct herself as part of the Royal family, people are in for a different style of working than they are used to.
When one of her friends asks her in the movie if there is anything at all to do in her kingdom, she orders her to make 90,000 cookies and to sew her a nice dress.
Another girl asks the reason for all the extravaganza. The young Markle says it is for a meeting she has where she would meet people from Florida, Canada, Mississippi, and Missouri.
At one point in the play, Markle is seen wearing a gold crown. She will perhaps do so again in a couple of months when she walks down the aisle.
Reports suggested that the soon-to-be Royal may wear a borrowed tiara from Queen Elizabeth II. Just as Kate Middleton once did.
The Duke and the Duchess of Cambridge are reportedly happy to have Markle join the family. In a statement on Twitter in November, they had said that they were excited for Harry and Markle.
They added that it had been wonderful getting to know the 36-year-old Markle and to see how happy she and Harry were together.
Many believe that the home movie was probably Markle's only chance to play royalty on screen, as she will be retiring from acting following her wedding.
Please fill in your e-mail so we can share with you our top stories!