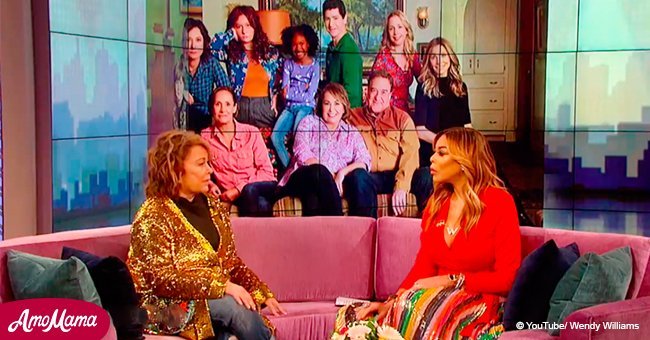 Roseanne mocks Wendy Williams with a painful 'husbands' joke, leaves her stuck and frustrated

Rosanne Barr, creator of the 90's sitcom, Roseanne, was invited as a guest to the Wendy Williams Show.
An awkward moment ensued when Willilams mentioned Rosanne's ex-husband, Tom Arnold. Roseanne didn't hold back and delivered a scathing reply.
As reported by Entertainment Daily, Wendy congratulated Roseanne on her show's tenth season ratings. The first and second episodes premiered back-to-back on March 27, 2018.
Wendy asked Roseanne how Tom Arnold is doing. Tom was Roseanne's husband from 1990 until 1994. He was also the co-creator of the sitcom.
Roseanne and Tom are not on speaking terms and went through a public and bitter divorce. Tom was approached by Hollywood Reporter to write a review about the revival season.
The irony didn't escape Roseanne, who remarked that Harvey Weinstein would probably be asked to review Rose McGowan's show next.
Wendy asked what Roseanne thought of Tom's review. Roseanne replied that she hasn't read it, prompting Wendy to quip "Well, I did," before reaching for a card with her notes.
At this point, Roseanne had had enough of Wendy's sarcasm and said: "I don't like talking about husbands. Right, Wendy?"
Roseanne was alluding to Wendy's marital problems. Her husband of 20 years, Kevin Hunter, was at the center of a media storm for allegedly cheating on Wendy.
Hunter is said to have had a decade-long affair with a massage therapist. Despite the media's focus on their lives, Wendy stated in 2017 that she would 'stand by [her] guy.'
Roseanne's snappy reply caught viewers' attention, who had a field day on social media. Glow Through It said 'Roseanne gathered Wendy's entire life in that comment.
Talisha said Roseanne served Wendy on her own show, while a user known only as Ok And Then You noted that Wendy wasn't prepared for the consequences.
Please fill in your e-mail so we can share with you our top stories!