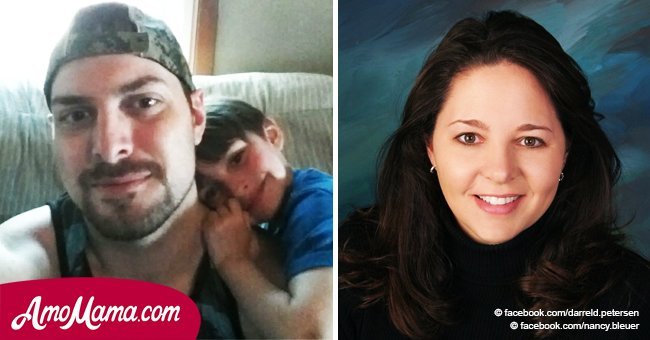 4-year-old boy came to school and said his dad is dying. Teacher risked her life to save him
While most teachers are devoted individuals who share their wisdom with little-to-no reward, this teacher showed she had true service vocation.
This kindergarten 54-year-old teacher found her calling, as she couldn't live without going to work to make sure her students, who she loves as if they were her children, were receiving a good education.
While most of her students were lively and happy children, one of them stood out when she realized he was deeply depressed.
Nancy Bleur discovered his sadness was due to a serious health condition his father, 34-year-old Darreld Petersen, was facing at the time, as he needed a kidney transplant.
According to Newsner, she decided she wanted to help more than the regular person and signed to be a donor and save the child's father.
One day, Bleur realized that little Camden wasn't as happy as ever. While he always was jumping around with the other children, he was now sitting alone in the corners, looking anxious and depressed.
She tried to find out what was happening with him, and while he wasn't complying at first, he finally told her that it was because his father was facing a terrible disease.
His kidney was functioning only at 20% of its capacity. He had to be receiving dialysis treatment only to survive, as he wasn't showing any signs of progress, and Camden was scared of losing him.
When Bleur discovered this horrible story, she didn't think too much about it and decided to help them by signing up in the donor's list.
"I was really excited about it. I was ecstatic. I don't know what I would've done for closure if I wasn't [a match]," Bleuer said to ABC News.
Just after a few days, Camden's phone rang to bring good news in that house. His dad would have a second chance, and it was thanks to Bleur.
"It's just amazing. There are people waiting every day for a kidney, for an organ in general. I wish there were more people like her. She's giving me a second chance at life," Petersen said.
This family was surprised when they realized the teacher was willing to help them this way. Camden is now happy his father is healthy.
Bleur is now really proud of what she did, as she demonstrated extreme bravery when she decided to help them the most dangerous way.
Please fill in your e-mail so we can share with you our top stories!