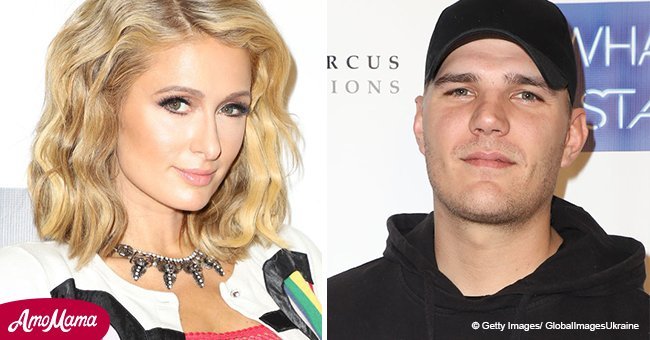 Paris Hilton finally speaks out about losing her $2 million engagement ring

Paris Hilton says it's a miracle she got her $2 million engagement ring back after it flew off her finger during a night out at a huge Miami club.
Hilton went into panic mode after her gigantic 20-carat ring from fiancé, Chris Zylka, came off while she was dancing in the early hours of Friday, March 23, at industrial former soda factory RC Cola Plant at Mana Wynwood.
According to an Inquisitr report, the VIP area quickly became the site of an exhaustive search by Zylka and security while Hilton waited tearfully nearby. The paper said the ginormous rock was turned up in a most unlikely place.
An eyewitness told that security started a search with torches, led by Chris and with the help of other patrons and that there was a frantic scramble with everyone looking for it, people were crawling on the floor, under tables, under other people's feet, and under seats.'
The massive club is nearly 50,000 square feet and can hold up to 7,000 people. Luckily, after the meticulous search of the VIP area by security, Hilton's ring was found in an ice bucket two tables down from where she'd been dancing.
'The ring was just so heavy and big that while I was dancing it literally flew off my finger into an ice bucket a couple of tables over,' Hilton explained. 'Thank God, by some miracle my fiancé found it before someone else did and most likely would not have returned it.'
Many people pointed out that Hilton's soon-to-be husband was 'astonishingly calm' during the frantic search. It is very surprising considering the high value of the so spoken diamond ring.
Zylka, a 32-year-old actor who's been seen on The Leftovers and The Amazing Spider-Man, had the multi-million dollar ring designed by Los Angeles jeweler Michael Greene, basing it off of a design of a ring Paris was partial to from the collection of her mother, Kathy Hilton.
The TV star announced her engagement to Chris in January, sharing some romantic photos of the snowy proposal on Twitter and Instagram. The couple were enjoying a ski break in Aspen, Colorado when he popped the question.
Please fill in your e-mail so we can share with you our top stories!