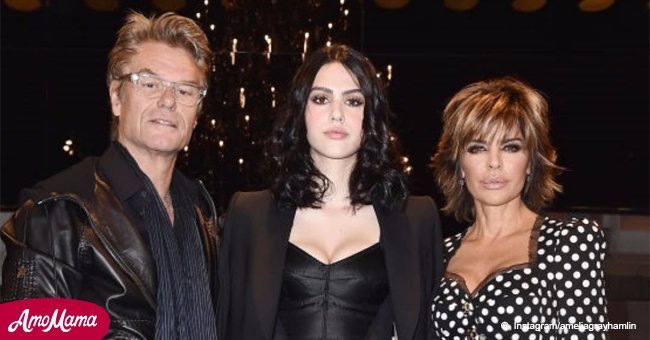 Lisa Rinna's 16-year-old model daughter goes public about a health disorder she had to struggle
The young model opened up about her struggles in accepting her God-given traits.
Amelia Gray Hamlin, a model and daughter of Lisa Rinna from Real Housewives of Beverly Hills, shared that she had struggled with anorexia in 2017.
The 16-year-old admitted that she was diagnosed with the eating disorder through a lengthy and touching Instagram post.
Pop Culture suggested that Hamlin shared her battle with her fans for her to be able to inspire others in proving that people can surpass any struggle through hard work.
The young model said she went public with the issue since a lot of her fans are still commenting on her figure, claiming that she was a lot thinner in the past years.
On the caption, she revealed that 2017 was not a great year for her, not just physically but also mentally.
She said that having modeling as a career took its toll on her mental state.
'Usually, when people are struggling with an eating disorder it stems from your mind, and your body is a reflection of it. I could go on and on about that time of my life, but the most important part about it was waking up one morning and deciding to stop sabotaging myself,' she wrote.
Both Hamlin and her older sister, Delilah Belle Hamlin, 19, have been frequently appearing in modeling spreads and advertisements here and there.
Fans took the time to praise the young model for her honesty in sharing her journey to the public. Also, some daughters of famous figures took the time to applaud Hamlin and express their support.
Heather Locklear's daughter, Ava Sambora, wrote on Instagram, 'This is so amazing,' while Neriah Fisher, Brooke Burke's daughter, wrote, 'Proud of you angel.'
Recently, Hamlin has also been diagnosed with Hashimoto's disease, which is a thyroid condition that can cause symptoms such as hair loss and weight gain.
Talking about her recent struggle, Hamlin said she still maintains a healthy lifestyle by eating right and working out. She said she is taking it one day at a time.
Please fill in your e-mail so we can share with you our top stories!