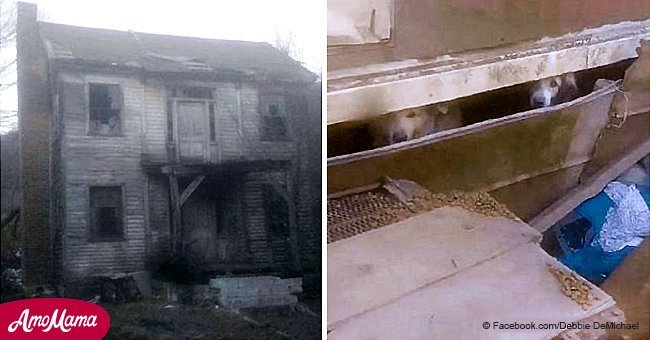 The owner of the old house passed away. But kind people rescued 43 lives inside
They were abandoned to fend for themselves.
As reported by Shared, animal rescuers found 43 dogs in a dilapidated farmhouse in Tennessee.
The owner of the farmhouse was a breeder of golden retrievers and German shepherds.
When he passed away, his elderly wife went to a nursing home. The couple left their dogs and property.
A video footage shows just how dire the situation was. It was filmed by someone who had been coming to feed the dogs.
In the footage, the dogs are seen running loose around the property. Some of them were skittish around people.
"There are still 43 dogs on the ground. I built up a group with several rescues to bring these dogs in safely. This is teamwork," said Cindy Droogmans, founder of A-Team Elite Rescue Dogs, a rescue organization in Long Island, New York.
Unfortunately, one of the dogs had to be euthanized because of his health condition. He was too weak to survive.
'We will be working with the animal control officer (who has been amazing) and hopefully other rescues to assist in getting these dogs trapped and triaged,' Big Fluffy Dog Rescue wrote on Facebook.
Big Fluffy Dog Rescue added that 'this will be a multi-week project as the location is remote and the dogs are not going to willingly walk up to be leashed and removed.'
Two dogs, Adam and Anabelle, need to be adopted together because they're so close.
Droogmans said that they usually lie against each other "when they see each other."
Adam and Anabelle were later brought up to New York. They were both available for adoption.
According to Shared, several female dogs were found out to be pregnant.
Please fill in your e-mail so we can share with you our top stories!