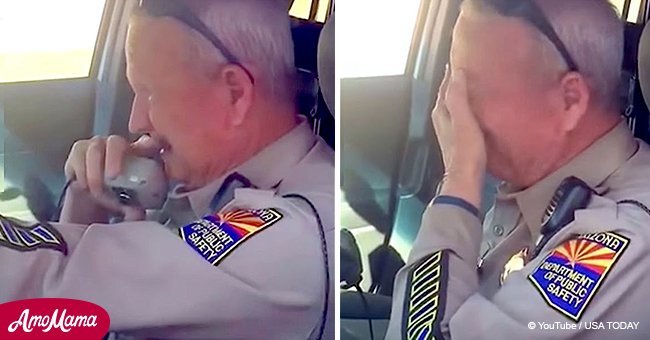 Emotional moment when Arizona trooper makes last radio call after 37 years on the job
This man spent many years working in the same job, and was very emotional when it came time to retire.
Mark Gilberg had worked for the Arizona Department of Public Safety since March 1981. For those 37 years, he patrolled the busy highways of Northern Arizona tirelessly.
As reported by Faith Tap, it was a very difficult day when Gilberg finally decided to retire from his almost 4-decades long post.
On a recent Thursday afternoon shift, Gilberg had to call in to dispatch. But this wasn't just a normal, everyday signing-off call. It would be his last call to dispatch.
As Gilberg picked up the receiver, he was noticeably emotional at what he was about to do. His daughter was also close at hand outside the window of his patrol car to record the moment for her father.
It took Gilberg a moment to reel in his emotions before speaking to the inspired dispatchers waiting for his call. When he did, the tears in his voice were evident.
"Badge 2988 began his career ... March 11, 1981," he said. "This will be my final 10-7."
Clearly, Gilberg was having an impression on the dispatcher, as just moments later she too was crying into her receiver. The emotional interaction proves what an impact Gilberg had had on his team over the years, and vice versa.
When Gilberg ended the call with his official final "10-4," it's almost impossible not to shed a tear along with him, his daughter, and the dispatcher.
A spokesperson for the Arizona Department of Public Safety has issued a statement confirming that Gilberg was the agency's longest serving trooper in history.
Please fill in your e-mail so we can share with you our top stories!