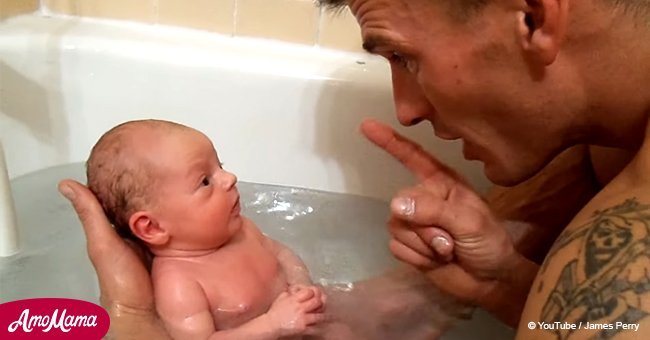 Dad puts newborn baby in a bath for the first time. It's the cutest thing ever
This father is bathing his baby daughter for the first time, and it's clear that he's loving the special moment.
For most parents, their children's "firsts" are forever cherished and remembered. First words, first steps, and even little things like the first smile or laugh.
Any first time parent would find this a daunting task, making sure the infant is safe, the water is not too warm or too cold, and that everything goes well.
But this dad has clearly got the routine down pat. He's gently cradling his daughter in the tub, holding the lower half of her body under the warm water.
Not only is he holding her comfortably, but he's speaking to her in soothing tones in case the new experience is a bit much for her, keeping her calm the whole time.
Fortunately, the little girl recognizes her dad's voice, and remains calm throughout the entire experience, just yawning slightly as the warm water soothes her.
But while she's clearly off to dream land, her daddy wants to make sure she stays awake enough not to "make a mess" in the tub. In fact, he doesn't even want to see one tiny bubble in the water from her!
Mum is clearly nearby as well recording the entire experience, and can be heard chuckling in the background at her husband's stern warning to the infant.
The little one can be seen with half a grin on her sweet face as her daddy calmly talks to her.
At one point he asks her if she's hungry, to which she opens her mouth wide. Whether this is a yes or simply an adorable yawn remains a mystery.
But it's clear from this interaction that this dad certainly loves his baby girl very much.
By the end of the clip, it seems the little girl has gotten a droplet of water in her tiny nose, as she sneezes in the cutest way possible!
Please fill in your e-mail so we can share with you our top stories!