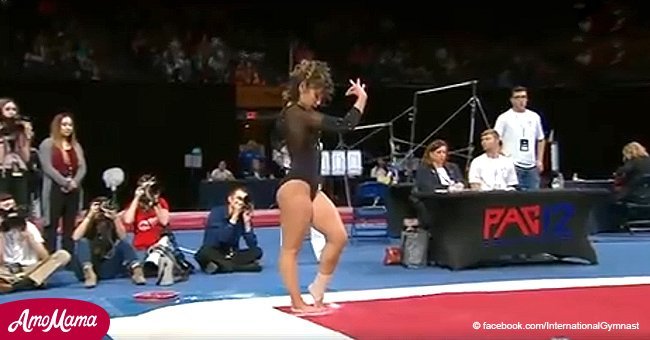 Michael Jackson's song begins to play. Minutes later, gymnast earns the highest possible score
For many years, people have been trying to choose what is the most beautiful sport in the world. Some say it's figure skating, some other say it's synchronized swimming.
A couple of them agree that gymnastics could easily get in that list as athletes often leave crowds breathless after performing floor routines filled with flips, twist, jumps, and contortions while following the rhythm of a song.
Inspire More reported that Katelyn Ohashi, the 20-year-old UCLA gymnast, did something that not everyone is capable of: scoring a perfect 10 with her balance beam routines.
It all happened in 2017, when she and the rest of the team of her university got into the college competition. Ohashi needed at least a 9.6 in order to take the trophy to the UCLA.
Knowing that, many people would panic and make mistakes during the performance. Ohashi is different, though, as she was a member of the USA Junior National gymnastics team.
She is so good that she even beat Simone Biles in 2013 in the American Cup. Biles is the 2016 Olympic individual all-around gold medalist and balance beam bronze medalist.
For last year's competition, Ohashi and her coach chose Michael Jackson songs in order to put in not only gymnastics moves but also the ones the King of Pop used to do in his concerts.
Ohashi made the backflips, the twirls, and even the moonwalk look easy and everybody got up their seats to enjoy the performance. One of the best aspects of it was that she really enjoyed every single step she did.
She saved the best for the end as, after several twirls, she landed and bounced into a split, took a couple of steps while dancing, and got to the floor in a plank position to finally stare at the camera.
Everybody knew that it had been a flawless presentation and the judges didn't even hesitate to give her the highest possible score: 10.
Please fill in your e-mail so we can share with you our top stories!