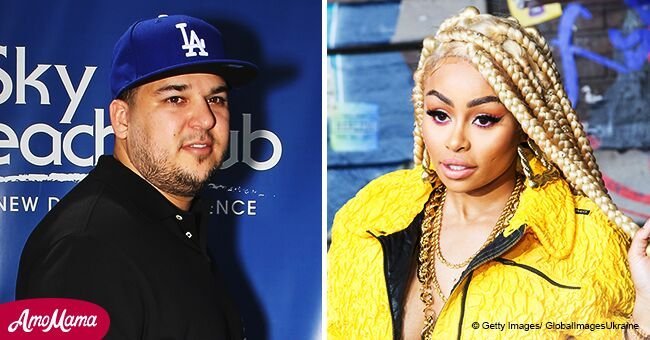 Rob Kardashian reportedly expresses concern for his child's safety after Blac Chyna's violent brawl
Blac Chyna was caught in a pretty nasty altercation at a California theme park over Easter weekend, and her ex-fiance Rob Kardashian worries about his child's safety after Blac's behavior.
The 29-year-old was filmed aggressively taking hold of Dream's pink stroller, her only child with Kardashian. She took hold of the stroller after getting into a heated conversation with a woman who reportely touched the child's hand while visiting Six Flags Magic Mountain in Santa Clarita last Sunday.
The ex-reality TV star was seen being held back by her boyfriend and another woman, knowing that letting her be would make a very big mess.
According to a report by TMZ, Rob, 31, expressed his dismay after seeing footage of the incident, which he sees as one of the many strings of concern that he has which relates to the safety and welfare of his 16-month old daughter.
The younger brother of the trio Kardashian sisters were also reported to be very unhappy with how Blac has been bringing her rapper boyfriend YBN Almighty Jay, who is 10-years her junior at 19 years old, to her home while Dream is present.
The publication also claims how Rob wants clearer points regarding what his ex-fiance can do while Dream being in her custody, among them a rule which forbids either parent from introducing new lovers to their child for the first six months of the relationship.
Kardashian has also previously criticized Chyna's $20,000 per month child maintenance demand, given that she currently earns more than he does.
The sock designer believes that the amount is unfair given that they both care for dream equally.
After the entire theme park scenario, Blac released an Instagram message on the same day explaining how a park-goer tried to physically touch her kid, which brought out her protective side.
"Being famous is hard enough dealing with scrutiny but when someone feels comfortable to come and touch your child it's a whole other story. I do not condone violence nor am I a violent person but shout out to all of the amazing mothers out there that will protect their children at all cost. Love, King and Dreams Mommy.".
Officials from Six Flags confirmed that after the altercation, both groups were kicked out of the amusement park.
Please fill in your e-mail so we can share with you our top stories!