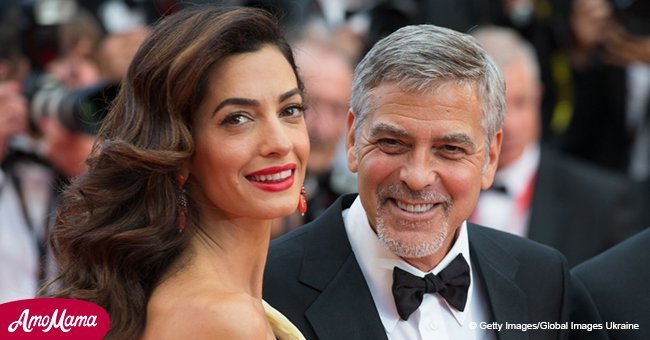 George Clooney's wife Amal dons another stylish outfit, proving her fashion icon status
Many women love to take care of themselves and to look stylish every time they go out. Amal Clooney, the wife of George Clooney, is one of them.
Even though her fame rose when she married George and welcomed their nine-month-old twins, Ella and Alexander, she was a famous high-profile lawyer and a recognized fashion icon.
According to Daily Mail, she is now a visiting Professor of Law and New York City's Columbia University, which was the place she was visiting on April 5, 2018, while wearing an astonishing outfit.
Amal, 40, put on a high-shine trench coat and checked pants with a black blouse and dark sunglasses. One of the aspects that captured people's attention was the wide-leg design of her pants.
She also put on a pair of pointed nude heels to make her look even taller than she already is. As the accessories, she chose gold earrings that gave her look the final chic touch she needed.
As a high-profile lawyer, she has represented many important cases throughout her career. Her most recent one is about two journalists jailed in Burma, which is the case she is working on nowadays.
The reporters are Wa Lone and Kyaw Soe Oo, who used to work for the Reuters news agency. They are in a prison in Yangon since their arrest, which took place in December 2017.
According to official papers, they are being held under the country's Official Secrets Act, which carries a maximum prison sentence of 14 years.
Amal said in a statement that the journalists are in jail for reporting the news and that, after reviewing the case, she considers they are innocent and should be released as soon as possible.
'Yet they have been denied bail and face 14 years in prison. The outcome of this case will tell us a lot about Myanmar's commitment to the rule of law and freedom of speech.'
Amal Clooney, Daily Mail, April 5, 2018.
Please fill in your e-mail so we can share with you our top stories!