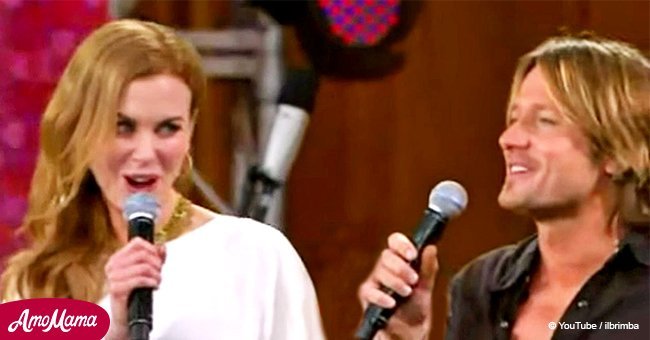 Nicole Kidman sings with Keith Urban on stage. She has an amazing voice, doesn't she?
The send-off took an unexpected turn when the popular actress pitched in her marvelous voice.
As reported in an article published by Country Rebel, country star Keith Urban and his actress wife Nicole Kidman surprised the crowd with a magical performance on Oprah Winfrey's departure from Australia in 2013.
Winfrey had traveled Down Under to shoot a special episode for her TV show. As she was ready to leave the country, a huge crowd had gathered outside the Sydney Opera House.
A programme for Winfrey's farewell was scheduled where a children's choir performed to send Winfrey off with their rendition of Peter Allen's song, I Still Call Australia Home.
However, the performance was taken to new heights as numerous popular Australian stars joined the choir to bid adieu to the global celebrity.
Country music fans were overjoyed witnessing the star cast that included Olivia Newton-John. Newton-John was soon followed by country icon Keith Urban.
The unsuspecting audience could not believe that they saw their two icons on stage together. But the biggest surprise that got the audience scream their lungs out was the appearance of famous actress Nicole Kidman.
Kidman, who met Urban in 2005 at a Hollywood event named G'Day LA, joined her husband as she came out from behind the choir. Fans of Kidman are not alien to her singing skills and they loved every bit of her performance.
Kidman lent her voice to some memorable tunes in the film Moulin Rouge and also gave backing vocals for Urban's single, Female.
Urban and Kidman are considered to be a powerful couple in show business and they did justice to their performance together.
Urban was born in New Zealand and moved to Australia to flourish as a country music singer. Kidman was born in Hawaii to her Australian parents and sent most of her childhood in Australia.
Please fill in your e-mail so we can share with you our top stories!