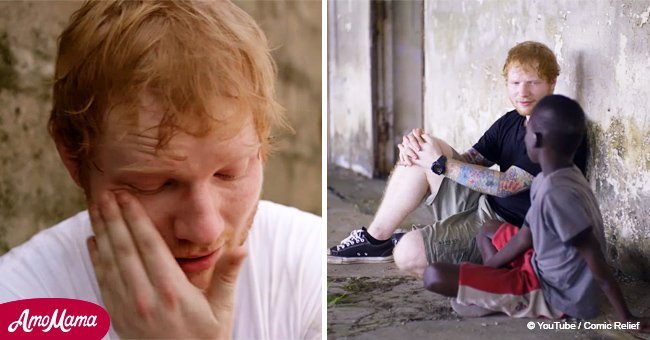 Homeless boy raped, beaten and robbed. Then Ed Sheeran takes matters into his own hands
Pop-star Ed Sheeran came face to face with children at risk and decided he would make a difference
Ed Sheeran was in Liberia filming a documentary for Comic Relief in 2017 when he saw the awful conditions children were living in, in that country, reported SoShareThis.com on the 28th of March 2018.
He saw thousands of young boys living in the slums with no protection, no food, and no support from an adult. One particular group of homeless small boys caught his attention.
He befriended one little boy called JD who slept in canoes on the beach with his five friends to avoid being attacked during the night. The boys had no-one to look after or care for them.
These young boys were frequently raped and beaten by older boys living on the streets. They often ate no more than a piece of bread, drank a cup of water to sustain them through an entire day.
"I am very happy to be going to school soon. I want to be president, so I have to learn and study well. When I am president, I can help all the other street children with food, shelter, and school."
The British superstar was touched and determined to make a difference in these children's lives. Sheeran used his own money to fund a house for the boys in Liberia's capital, Monrovia, and he hired a woman to look after them, whom they called 'Ma'
JD and his friends remember what it was like to live in fear, hiding from the older boys and sleeping on abandoned canoes on the beach. They confess they much prefer their lives with 'Ma' who looks after them and sees to their every need.
The children will soon be starting school again, and JD dreams of becoming president so he can help other homeless children in Liberia, to make sure they have enough to eat, can go to school and not be molested and abused on the streets of Monrovia as he was.
Sheeran has taken a positive step, acted directly and made a difference for these children, and he has set an example for many other celebrities with his hands-on attitude,