Cardi B confirms her pregnancy as she flaunts her growing baby bump in a skin-tight white dress
The rapper finally addressed speculations about her pregnancy when performed on Saturday Night Live.
Cardi B showed off a huge baby bump during her first appearance on the weekly comedy show. Daily Mail gives us the inside scoop.
The 25-year-old star previously denied rumors of her pregnancy for months prior to the performance. Cameras initially angled above her belly as she performed a rendition of Be Careful during her second show of the night and it later panned down to show her pregnant stomach.
Cardi, whose real name is Belcalis Almanzar—donned a skin-tight white dress that featured long sleeves. It was a ruched dress with contrasting floaty fishtail skirt by Christian Siriano. Behind her was a bright blue background cascading through her and a spotlight accentuated her stomach.
A video was shown on Instagram as Cardi went backstage and was among a slew of cheering friends and family. She put up her hands happily and screamed, "I'm finally free!
She is set to perform at the famed Coachella music festival in Indio, California and her SNL performance is just the start of an intense week for her.
The Bodak Yellow singer, who is engaged to hip-hop artist Offset, has insisted before that she will not talk about the reports that she is expecting a baby with her fiance.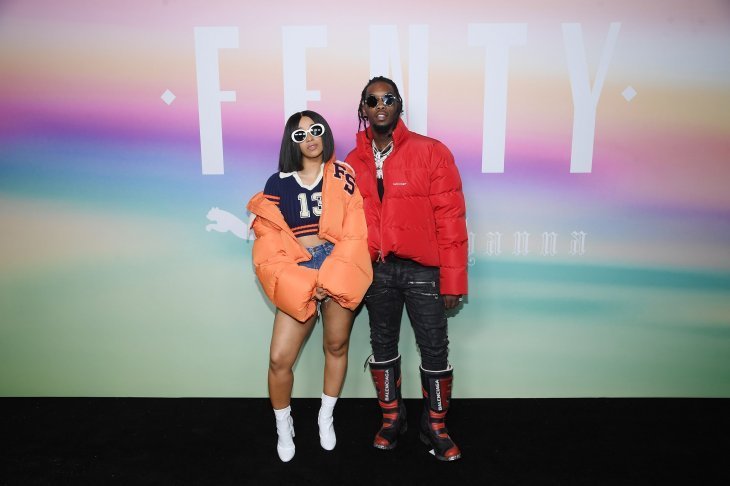 She explained on Thursday during an interview on Apple Music about why she did not choose to talk and told the people that they should listen to her upcoming album instead to discover things that she would rather rap than talk about.
"I feel like people just got to tune in a little bit on my album and they will a little bit more because I can't address all the rumors and everything. I have been so open to people about myself. People cannot expect me to open about everything. Certain things to me, it has to be private. You cannot invade my privacy."
At the beginning of December 2017, Cardi B has said that she and Offset planned to spend $1 million on their wedding.