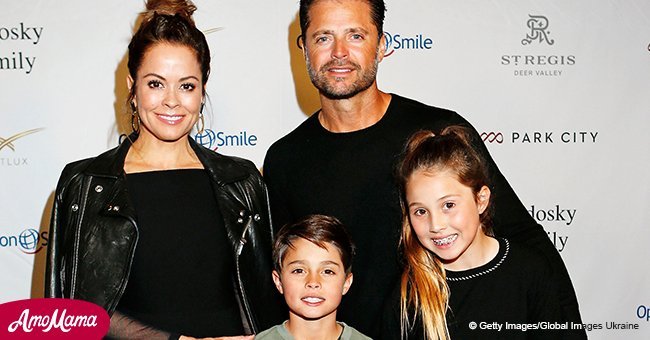 Brooke Burke confirms swirling speculations on sad news that has hit her family, calls it quits
Brooke Burke has finally opened up about the status of her marriage. According to a post she shared, she and her husband have chosen to divorce.
In her statement, the actress clarified that nothing scandalous had happened to cause the decision. The announcement was made on April 6, 2018, according to Closer Weekly.
Brooke Burke officially filed for divorce from her husband, David Charvet, after 6 years of marriage. She confirmed the news in a post on her website called Modern Mom.
The Baywatch co-stars first started dating in 2006. It has been 12 years later and now they have brought their relationship to an end.
In the post, she stated that she believed that it was a positive change. She admitted that she was deeply saddened because she had loved being married.
The star stated that it took her a long time to differentiate between giving up and letting go. It took her even longer to recognize when it was time to do so she shared.
'You may have heard that David and I are divorcing. We have tried to keep our separation private for some time out of respect for our children and family.'
'We are still a family full of love, simply redefining our dynamics. I believe this is a necessary decision for my entire family unit,' Burke added.
The actress and Charvet married in August 2011 in a secret ceremony on the beach in St. Barts. During their longtime relationship, they welcomed two children together.
They had a daughter, Heaven Rain, 11, and a son, Shaya Braven, 10. Charvet was also a stepfather to Burke's two daughters from her previous marriage to Garth Fisher.
Speculating about problems in the couple's relationship started when the actress and the children attended an Operation Smile event in Park City, UT in March. There she was spotted without her wedding ring.
According to People, a source revealed to them at the time that the pair had been separated for a couple of months and tried as hard as they could to make their marriage work. The insider shared that at the end of the day they had to do what was right for them and their family.
Burke also shared in her post that the divorce happened quite amicably. She stated that there was nothing sensational that had caused their divorce and nothing scandalous would surface.
The actress shared that they were just finding new ways to remain a loving family. "Big life decisions are hardest when made for the right reasons. It is sometimes painful to be strong and embrace change," she said.
She added that she believed in letting go of ideas and dreams when the time was right. Burke revealed that she was listening to her heart and in that space right now as a woman and a mother.
The star confessed that she was approaching the divorce with gratitude and unconditional love.
Please fill in your e-mail so we can share with you our top stories!