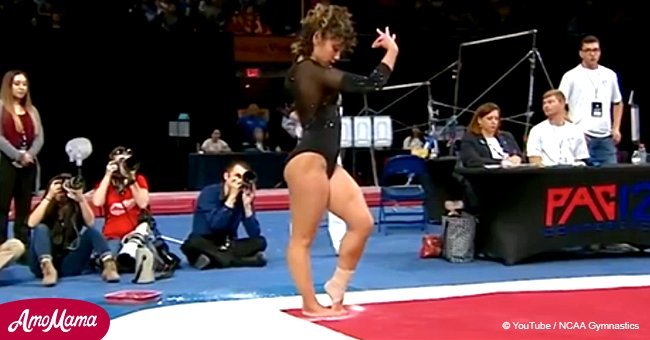 Gorgeous young gymnast performed Michael Jackson's routine in a perfect way, crowd rejoiced
Not many sports are as beautiful yet difficult as gymnastics. While showing finesse and class, they must perform a routine following the rhythm of a song.
If things weren't difficult enough, they don't only make steps that any dance routine would include (which is also challenging) as their performances are filled with flips, twists, and contortions.
Inspire More reported there is a gymnast so good that she leaves people breathless every single time she gets 'on stage.' Her name is Katelyn Ohashi, she is 20 years old, and she currently studies in UCLA.
In 2017, she scored two perfect 10s with her balance beam routines and she was eager to repeat that this season. Everything started as expected as she landed two perfect performances in the first competitions.
Late February held the 2018 Pac 12 Championships, where her team's efforts were not enough to get them the title, but things were about to change. She knew she needed a 9.6 to win the championship, but she didn't let the nerves take the control.
Even though she is only 20, she has lots of experience as she is ranked in the second position in the U.S., was a member of the USA junior national gymnastics team, and even won the 2013 American Cup.
It is important to mention that Simone Biles, the gymnast who represented the U.S. in the 2016 Olympics and won gold medals, also participated in the 2013 edition of the American Cup.
As soon as her routine started, people knew it was going to be amazing as she chose Michael Jackson's greatest hits. After a series of backflips, twists, and jumps, she incorporated a couple of Jackson's famous moves.
She made look easy all the steps, including a mid-air somersault, mid-air split, and people's favorite, the moonwalk right in the middle of the stage.
Ohashi saved the best for the end as, after a series of flips, she landed on a split and went back to her feet, gave a couple of steps, and ended in a plank. As expected, the title went to UCLA as she got another 10. She is an athlete with a bright future.
Please fill in your e-mail so we can share with you our top stories!