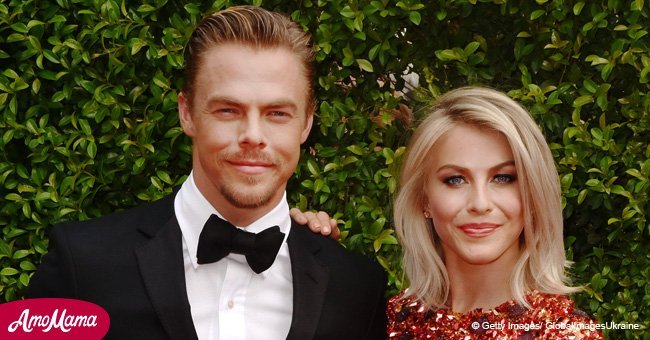 Julianne & Derek Hough stunned the public with their charming 'Great Balls of Fire' performance
The crowd erupted in applause during the dancing pair's performance on the show in 2008.
Siblings Julianne and Derek Hough wowed their fans during a recent performance on the stage of Dancing With The Stars, as shared by Country Music Family.
Dressed in piano-themed outfits, the talented siblings set the dance floor on fire as they grooved to Jerry Lee Lewis' Great Balls of Fire.
Their performance started with Derek descending a sparkling staircase toward the piano that occupied the center of the dance floor.
The audience roared in excitement when his sister, Julianne, popped up right out of the piano. They danced on the top of the piano before swooping across the dance floor.
Jaws dropped when Derek tossed Julianne into the air in a series of shocking dance moves.
Derek slid off the top of the piano onto Julianne's awaiting shoulders, and she then proceeded to carry him across the dance floor.
This performance was part of the dance reality show's Design-A-Dance competition, which allows viewers and audience members to vote on the performers, song choice, dance style, and costumes for the performance.
This proved to be one of the most-loved performances of the Hough siblings.
Derek and Julianne have been dancing professionally for the last decade, and have gone on tour across the United States.
Apart from being a dancer, Julianne is also a professional singer, and has appeared in a number of films as well.
In May 2007, she released her first country music single, Will You Dance With Me, to raise money for the American Red Cross.
She later signed with Universal Music group Nashville's Mercury Nashville Division and released a self-titled album under this label. She also joined Brad Paisley's tour in 2008.
Julianne appeared 2001 hit film, Harry Potter and the Sorcerer's Stone, in an uncredited role, and starred across Kenny Wormald in the 2011 remake of the movie Footloose.
She also appeared in the 2010 musical, Burlesque, starring Cher and Christina Aguilera, and in Dirty Grandpa.
Please fill in your e-mail so we can share with you our top stories!