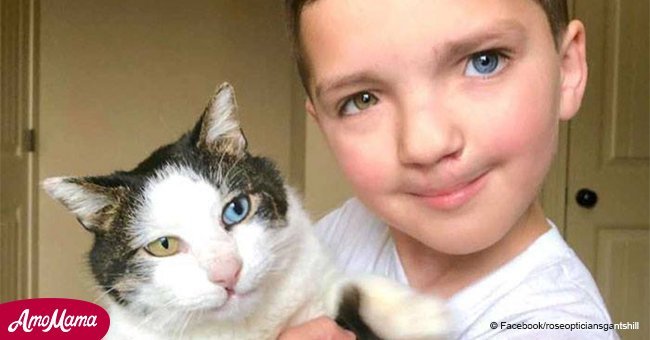 Bullied little boy adopted a rescue cat with same rare eye condition and a cleft lip
He found a true friend in a cat.
Madden, a seven-year-old boy from Oklahoma, found the perfect friend in a cat who has the same facial features as he has, as reported by Happiest.
Madden was born with a cleft lip and different colored eyes. This eye condition is called Complete Heterochromia Iridium.
His facial feature has negatively affected Madden's self-esteem. He felt so much different from other people. He was bullied.
But his spirit was lifted when he met a two-year-old kitty at a local rescue group.
He instantly felt a connection with the cat, which also has different colored eyes and a cleft lip.
The cat was under the care of Mending Spirits Animal Rescue in Mankato, Minnesota.
Christina Humphreys, Madden's mother, was overjoyed when she learned about a cat named Valentine who shares similar distinguishing features as her son.
She knew that Madden would be happy to have Valentine as his animal friend.
Staff at the Mending Spirits Animal Rescue told Christina how adorable Valentine was.
"He is as beautiful inside as he is out. He has a quiet little meow that sounds adorable and he will kindly meow at you when he is asking for your attention," Christina remembered being told.
The family embarked on a road trip, driving down from Oklahoma to Minnesota.
Christina shared about their experience on Facebook. 'We had quite a few incredibly generous friends and strangers help make the road trip possible so that we could adopt this sweet fur baby and we are so thankful,' she wrote on Facebook.
Madden and the cat quickly fell in love with each other. He renamed the friendly cat, Moon.
Madden has developed self-confidence with the help of Moon. He even wants to help raise awareness of bullying.
"Don't be mean to other people who are different," he said. "We've already been through a lot of hard stuff. Show everybody kindness."
Please fill in your e-mail so we can share with you our top stories!