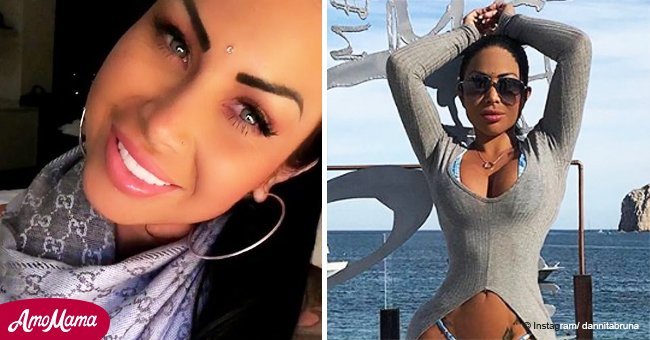 Model left partially blind after controversial surgery to change eye color to light gray
Although she wanted to look youthful with her change in eye color, she ended up with the vision of a 90-year-old.
As reported in an article published by Metro UK, 32-year-old Argentinian model Nadinne Bruna partially lost her vision after a surgery that was meant to change her color from hazel to grey.
The 32-year-old model lost about 50 percent of her vision in her left eye and a whopping 80 percent of her vision in her right eye.
Bruna shared her disastrous attempt to change her eye color on social media where she has a massive following. She has made a living by being a social media celebrity along with her twin sister, Danna.
The duo shares the cosmetic procedures that they have undergone an are usually paid by the medical practitioners to promote their services to a cumulative followership more than a million.
The sisters reside in Miami and Bruna had to travel to Colombia as the eye surgery is not allowed in the USA. The procedure costs around $3,000 to embed silicone implants into the eyes.
Bruna was offered a discount if she posted about their service on social media. After the procedure was completed, Bruna started to experience problems.
Her vision was very blurry most of the times as the implant exerted pressure on her optical nerve. Her eyes were red and gave her a lot of pain for months.
She went back to Colombia in March 2017 and June 2017 for two additional procedures to repair the damage caused by the first surgery. However, she was advised to attend Basco Palmer Eye Institute in Miami.
At the facility, ophthalmologist D. Ranya Habash led his team of medical professionals to remove the fatal implants in September 2017 and Bruna underwent a sight-saving operation to treat glaucoma in November 2017.
Due to the emergency surgery, Bruna lost 80% of her sight in her right eye and half of the capacity of her left eye.
Please fill in your e-mail so we can share with you our top stories!