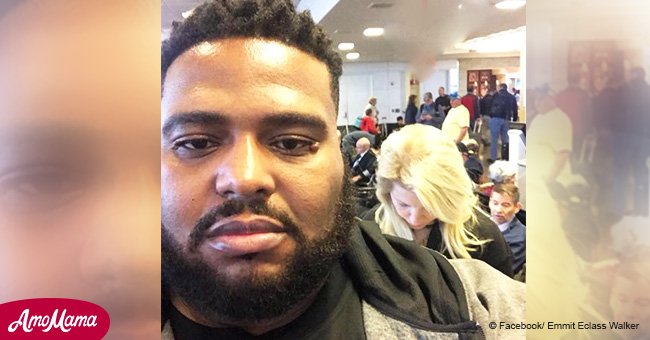 Man's perfect response to racist woman at airport goes viral
He stood in a line in front of her to board his flight. But her reaction to that was unnecessary.
As reported by New York Post, an African-American music producer, Emmit Walker, had a hilarious response to a Caucasian woman at the airport who did not believe that he had bought his first-class ticket.
Walker shared a photo of himself on social media standing in the boarding line and pointed at the woman who was standing right behind him. The photo contained the text 'This woman is funny' on December 5, 2017.
He shared his incident and the conversation that took place between him and the blonde woman who made a few racist remarks at him.
Walker was waiting to board his flight at the Ronald Raegan Washington Airport and had a first-class ticket with him. A blonde woman behind him did not believe that he could've afforded the ticket himself.
At first, she thought that he was mistaken to have stood in the line meant for passengers with a first-class ticket. She told Walker that he may be standing in the wrong line and asked him to make way for her in the priority boarding line.
Walker explained to the woman that he was aware of where he had to be and showed her his ticket. Even after seeing the ticket, the woman refused to believe that the man paid for that ticket.
She said that Walker's ticket must have been in the military and his ticket was paid by someone else. She continued ranting and asked him to wait and let them through as she paid or her ticket.
Instead of getting angry at the woman's incredibly offensive remarks, Walker stayed calm and gave a hilarious response that compelled onlookers to break into an applause.
He said that he was too big to be in anyone's military. He added that he was just a black guy with a lot of money.
Walker's episode with the woman gathered a lot of traction on social media and was liked by over 786,000 people and shared more than 250,000 times by internet users.
Please fill in your e-mail so we can share with you our top stories!