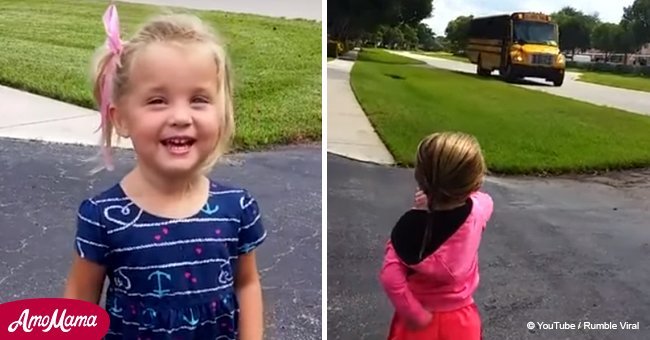 Video montage shows heartwarming reason this little girl waits for the school bus every day

Her excitement when seeing the bus come closer from the end of the road is unparalleled.
As reported by The Epoch Times, a mother shared a video montage of her daughter waiting for her elder brother's school bus. As her brother gets down, she runs to give him a heartwarming hug every single day.
Every afternoon, the little girl waited in the sun with her mother expecting her brother's bus to stop by their driveway. As soon as she saw the bus arriving from the distance, she started to wave at the bus with excitement.
Whenever she saw her elder brother getting ready to deboard the bus, the little girl jumped up and down and when he got down, she ran towards him to give him a big hug.
The girl's excitement was evident when she asked her mother, who was holding the camera, to guess what time it was. The mother played along and asked her what time it was.
The girl responded that it was time for her brother's school bus to come at their driveway. The brother too rushed out of the bus with a big smile to get to his little sister and hug her right back.
Being an elder brother, many-a-times the boy's protective instincts were visible as he steered his little sister away from the bus before completing the hug.
Even the other students in the bus along with the bus driver became acquainted with the cute relationship between the brother-sister-duo and waited to witness the love they shared for each other.
After the girl hugged her brother, she also waved goodbye to the bus driver, who responded with a smile and a wave. Other students in the bus also joined in to wave at the little girl.
One time, when the brother got off the bus, the little girl seemed upset and sad about something. She was sitting with her head down on the porch and her brother came and sat next to her.
He put his hand on her shoulder and asked her what was wrong. The girl gave into her brother's embrace and hugged him back.
The compilation created by the mother will be a cherished memory for the duo until the end of their lives. One can only hope that they share the same love after growing older.
Please fill in your e-mail so we can share with you our top stories!