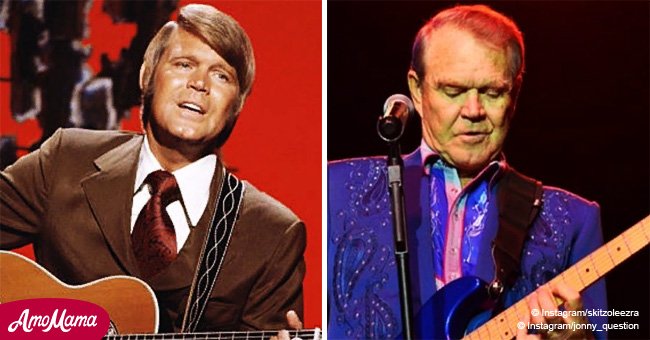 Glen Campbell's widow reveals court battle over country legend's $50 million estate
Glen Campbell, who was diagnosed with Alzheimer's disease in 2011, passes away on August 8, 2017, at the age of 81.
Less than a year after his death, Campbell's widow Kimberly Woollen revealed many details about a court battle she is involved. The country star's children want a part of his $50 million estate, but they were cut out of the will.
According to Shared, Woollen was in charge of taking care of Campbell from 2011 until 2014, when she followed the doctor's advise and interned him in a long-term care and treatment facility.
Woollen confessed that she was attacked by her husband's fans and children as they accused her of neglecting him. She even got death threats about something that people were not completely aware of.
Some of the things people said about her were that she 'withheld' his basic necessities as she used to hide the toothbrushes. Woollen confessed that she did it because he wouldn't know what they were for and used them to rinse the toilet.
Apart from that, people blamed her because of her decision of putting him in a health care facility as she 'should have' hired a 'big and strong man' to handle him.
Woollen pointed out that she had to put child locks on the kitchen to avoid him hurting himself, something that would make him mad. Campbell's elderly children, Debby and Travis, sued Woollen to be allowed to visit their father.
The widow admitted that she never blocked them from visiting him and that all his children did was attack her, but the truth was that Travis never visited Campbell before his Alzheimer's disease diagnosis.
When Campbell died, his will did nothing to resolve things as he cut three of his eight children out of it. His $50 million estate was taken to court as Woollen was the executor of the will, although she said it was Campbell's decision.
Woollen filed a lawsuit, as well, seeking for $500,000 divided in the following way: $127,000 for caregiver expenses, another $134,000 for assisted living expenses, $68,000 to install a security fence, and $175,000 for legal costs.
Please fill in your e-mail so we can share with you our top stories!