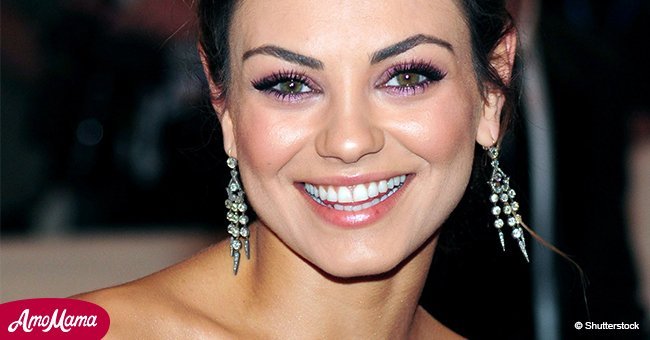 Mila Kunis sports a make-up-free look, revealing how ageless she looks at the age of 34
Mila and Ashton had their own date night as they cheered on the Los Angeles Dodgers last Wednesday, but last Sunday, it was family day.
Ashton, 40, and Mila, 34, took their children out to a frozen treat on a hot day in Los Angeles.
The family-of-four made their way to Yogurtland with their two young children with them, Wyatt, 3, and Dimitri, 1.
Mila chose to go makeup free for their outing, walking with her daughter to their car.
The actress wore a white cotton t-shirt with the words 'I love you, it's personal' written in front. She paired her top with gray sweatpants, white lace-up sneakers, and a gold necklace.
Meanwhile, dad Ashton carried his son Dimitri whom they welcomed into the world last November 2016. He too looked very comfortable dressed in a plain gray shirt and jeans for their quick outing.
During their Dodgers date, Mila wore a blue Dodgers hoodie and striped pants, while Ashton donned the Dodgers' tan baseball cap.
The two have been married for almost three years after getting married in Oak Glen, California last 2015.
The couple have known each other since starring together in 'That '70s Show' which ran from 1998-2006.
However, the two did not reunite until Ashton split from his wife of six years, Demi Moore, 55, in 2011. Their divorce was only finalized in 2013.
Please fill in your e-mail so we can share with you our top stories!