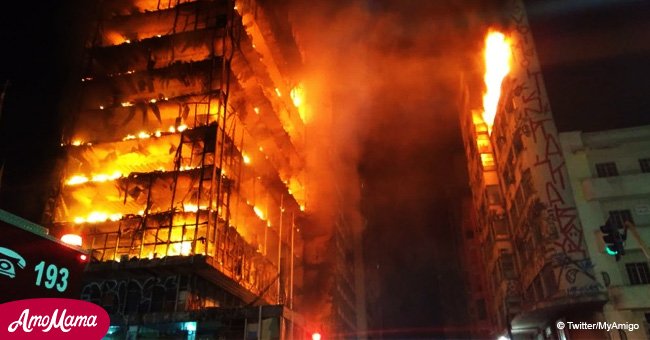 Fire rips through building in Brazil and causes it to collapse as residents scream for help

The 26-story building was an old Federal Police station that had been abandoned for years, but groups of homeless people made it their home.
The fire started in the early hours of Tuesday, May 1, 2018, in São Paulo, Brazil. It is unknown how the fire started, but firefighters believe that it originated on the fifth floor.
Being an old building, the structure was very frail and didn't take much for the fire to tear it apart, causing the building to collapse with people inside, as reported by the Mirror.
It is unknown how many people lost their lives, but at least one has been confirmed dead while several firefighters were injured in the process.
Videos of the flames engulfing the building are flooding social media. The fire was filmed by people on the streets and in nearby buildings and show how the old Federal Police station was reduced to a pile of rubble.
Flábio Gabia, who works as a receptionist at a hotel that had to be evacuated, said that the streets were full of scared and desperate people trying to run away from falling debris.
Another witness, Victor Hinckel, claimed that he was getting ready to take a shower when his neighbor warned him about the fire. The man revealed that he saw some people jumping from burning floors to escape the inferno.
According to the fire department, several people were seen calling for help on the top floor. One of the victims, who is yet to be identified, was seconds away from being rescued when the building collapsed.
Over 170 firefighters showed up at the site, in the Largo do Paissandu district, along with military units and a Civil Defense response team. The flames spread to a nearby building but its residents were safely evacuated.
Frederick Ludwig, a pastor at a nearby church, shared that he had been warning the city council about the dangerous building for years. Aside from the weak structure, it had an open sewage and 'outbreaks of the dengue mosquito.'
Although not as deadly, the São Paulo fire could be compared to the Grenfell Tower tragedy, which took place in Kensington, England, last year. A total of 71 people lost their lives that day.
Please fill in your e-mail so we can share with you our top stories!