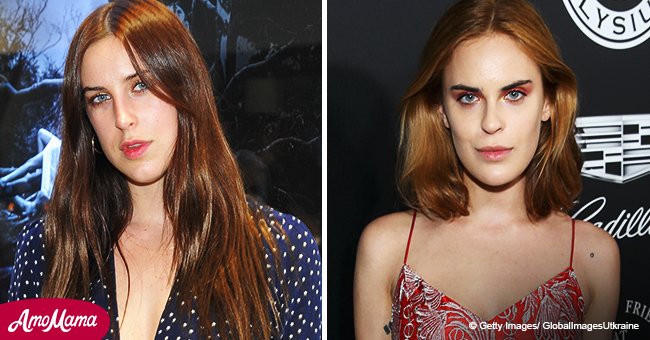 Bruce Willis' grown up daughter Tallulah shows her cleavage as she poses with sister Scout
The daring celebrity daughter gives her followers a glimpse of her cleavage following her controversial nude photo a week earlier.
She recently made headlines flaunting her nude body on Instagram and Tallulah Willis kept with the pace as she donned a cleavage-baring outfit for another photo with her older sister Scout Willis.
On April 9, the 24-year-old daughter of Bruce Willis and Demi Moore shared a twinning moment with her 26-year-old sister as they both wore coordinated white tops and black pants in the snap she captioned,
"God bless these handsome boys."
While the sisters appeared to be in sync with their color scheme, Tallulah made a more daring choice as she sported a white ruffled blouse with a seriously deep plunge revealing her braless cleavage. Meanwhile, her older sister opted for a more conservative top which she buttoned all the way to her neck where a lace collar resides.
Both issuing smoldering looks for the camera, the sisters delivered a captivating scene with Tallulah's blonde hair falling in messy waves over her shoulders while Scout's long dark locks she carelessly parted in the middle flowed effortlessly beyond her shoulders.
Just a week prior to the sisters' black and white outing, Tallulah drew attention to a more daring post she shared where she was completely naked soaking under the sun.
The uncaptioned photo where she was accompanied by her dog earned tons of comments from her 184k followers.
Wearing merely a baseball cap and a pair of shades, the sultry siren ditched her bikini as she posed outdoor on a couch. She did make sure though her private parts were covered as she strategically positioned one arm and leg to shield them.
Tallulah is the youngest daughter of Bruce and Demi who sired three girls during their marriage. Their eldest, Rumer, is now 29.
It's been almost four years since Tallulah revealed she was sober, after attending rehab for substance abuse in 2014. Marking her third year being sober in July last year, the courageous celebrity daughter told her Instagram fans,
"I don't push any agenda, I can only speak for my path and staying sober has been far and beyond the most important thing I've done in my wee 23 years."
She also revealed in an interview with Katie Couric after leaving rehab that she was a victim of bullying when she was young. She told the news anchor,
"I had people when I was 13 telling me how ugly I was, and how could two beautiful actors create such hideous troll children."
Coping with her low self-esteem and shyness, she later mustered enough confidence to come out of her shell and be proud of who she is. Right before Christmas last year, she responded to her detractors by posting a photo of her in a bikini and writing,
"dedicated to everyone who called me ugly at 13."
Clearly, Tallulah has come of age blossoming into a fine young lady who knows herself and won't hesitate to reveal who she truly is.
Please fill in your e-mail so we can share with you our top stories!