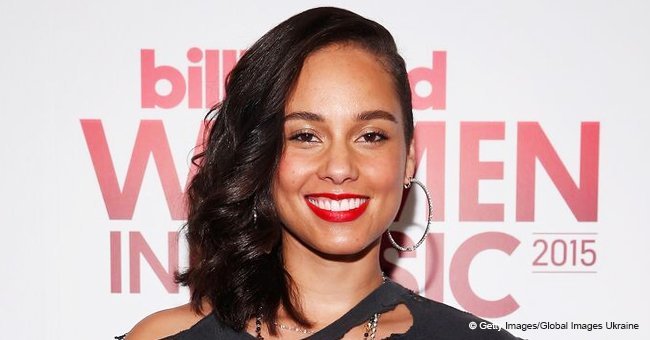 Alicia Keys warms hearts as she plays piano with her handsome look-alike son in sweet video
- AmoMama gleaned from Instagram the sweet video of Alicia Keys playing piano with her handsome look-alike son, Egypt Daoud Dean.
- The heartwarming video was shared by the talented singer on her Instagram page with the handle @aliciakeys.
- Fans and lovers of the star have continued to shower the video with lots of likes and beautiful comments.
It's always interesting to experience how iconic singers and hitmakers come up with their touching, inspiring and hot jamz.
It's also always stunning to see and hear live performances of singers, whether it's at a concert, an event or just a random, casual performance.
And this time, it's iconic singer, Alicia Augello Cook, popularly known as Alicia Keys, who took to her Instagram page to share a video of herself playing the piano with her adorable son.
Since releasing her debut album, Songs in A Minor (2001) with J Records, the pianist, music producer, philanthropist, actress, and mother of two has made it big in the music world.
Alicia gave the video a caption which read,
'Workin it out...When I write Sometimes I just wait for the words To drop out of the sky Like rain'
Fans and followers of the star were thrilled by the video and continued to shower her with praise.
A comment from a fan with the handle @stegaliza read,
'You're too cute together. Love u both mom and son! And thanks so much for sharing moments like that with us'
Another comment from a fan with the handle @na2isnana read,
'Love seeing how the magic is created! So #talented Thanks for sharing your gift!'
Another commenter with the handle @ez1eric2 also wrote,
'Wow too Cute ! It's Love ,you are the best and have grown up like the most beautiful flower in the world !This just captures your spirit ! You go girl !'
Also, a commenter with the handle @wilkesmusic wrote,
'Sometimes they fall from the sky. Sometimes you have to reach up there and grab them. I LOVE when a song wants to be chased... but when they fall on their own... it moves my soul.'
Several other commenters also continued to show the star and her adorable son lots of love commenting with smileys that prove their loyalty to her.
What do you think of this touching piece of Alicia Keys playing piano with her handsome son? Let's hear from you.
Please fill in your e-mail so we can share with you our top stories!