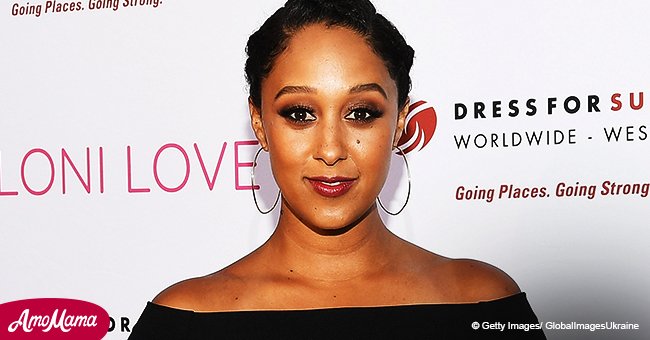 Tamera Mowry shares an adorable photo of her two young kids. They look like her mini-me's
The 'Sister, Sister' star draws attention to her cool kids amid revelations she's done with having children.
She recently gushed about her strong-willed children and earlier last month, Tamera Mowry noticed how they've imbibed the New York City vibe too.
Source: Getty Images / Global Images of Ukraine
Posting a photo of her two children, Aden, 5, and Ariah, 2, on her Instagram, the proud mom took notice of her kids' cool stance while strolling along in the Big Apple. Sporting serious faces, and looking exactly like her, the warmly dressed duo seemed to have already been "learning the NYC mug" as their mother indicated in her caption.
Just last week, Tia Mowry's sister told Us Weekly her two mini-me's have been registering strong characters. Describing her older child Aden as a personality and a half, she also said he was a little man with a very strong will which she thinks is a good thing.
"As a mom I love that because I know that no one is just gonna bulldoze over him."
On the other hand, her daughter she says is a little ray of sunshine who's just learning to talk.
"She's starting to say full sentences now. In the beginning it's just, 'Mama. Eat-eat.' Now, it's like, 'Mama, want to eat.'"
While her sister Tia is due to give birth to her second child soon, the 39-year-old who's been married to Adam Houseley since 2011 confessed she's done with having more kids.
"Usually, this is the time when you think about having another child, but I'm done. Done, done, done, done … done, done."
She did however tell her sister she'd be glad to help her out though she doesn't think Tia would need it.
"I told her if she needed any help I'm here for her, but one thing about my sister, she's very determined. And the one thing she has on her side is the big age gap. Cree, her oldest son, will pretty much be seven years older than her daughter. That's great."
It's safe to say Tamera would gladly fill the shoes of aunt to Tia's children. But as far as she's concerned she's contented with her two beautiful kids.
Please fill in your e-mail so we can share with you our top stories!