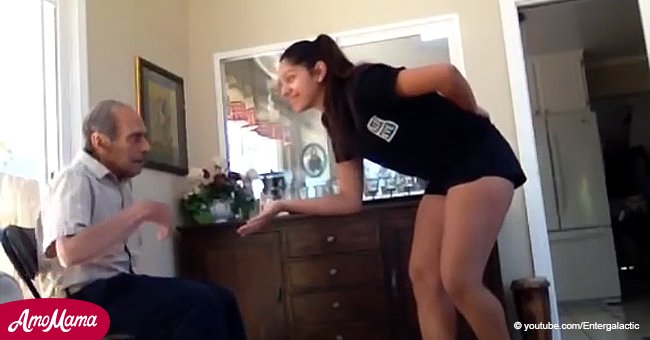 Woman asks her grandpa with alzheimer's to dance. But wait until music starts to play

Some people share a great bond with their grandparents and such love for the elderly is heart-touching.
Faith Tap reported that an elderly man was ecstatic when his granddaughter turned to him and asked for a dance.
Not only does the granddaughter, Rachel, take good care of her grandfather, she also adds a little bit of fun every day.
Though she was aware of his dancing prowess, she did not know he still had it in him. She witnessed some amazing skills when he started to dance.
In the video that has now gone viral, she turns on the music and invites him to dance. His face lights up instantly.
The man is 93 years old and has Alzheimer's. That does not stop him from enjoying the little things in life
He shows that age is just a number and that one does not have to act 93. He shows that one is really only as old as one feels.
The grandfather did not look for an escape when his granddaughter requested for a dance. Loosening up and having a little fun was just what he needed and he was a willing partner.
As the two danced, the man never once stopped smiling. It was a moment of pure joy as they showed that they mean the world to one another.
The video, accompanied by upbeat music to guide their footsteps and each other to lean on, has been shared across the globe.
Those were some priceless moments when the man got up on his feet and with Rachel laughing along.
As the duo shared their sweet moments, they made sure they record it. They can now look back and smile as they watch it.
The young woman does a lot for her grandfather, from cleaning to preparing his meals and even going for walks with him.
She went the extra mile to make sure it was one of the most memorable days in his life. It is also amazing that she is always there for her grandfather during his difficult time.
Please fill in your e-mail so we can share with you our top stories!