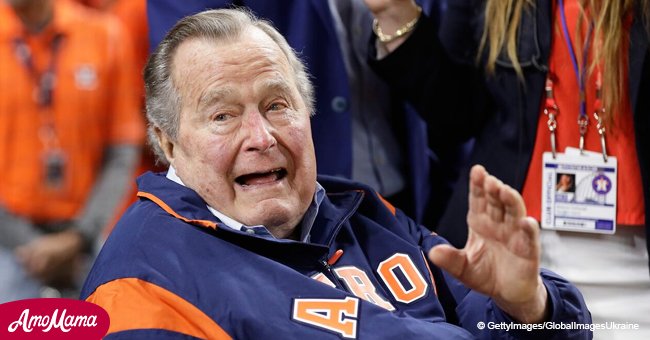 George H. W. Bush released from hospital after dealing with life-threatening infection
The former United States President was discharged from the hospital where he was treated for an infection that could have taken his life.
On Friday, May 4, 2018, Jim McGrath, a spokesman for the Bush family, took to Twitter to let his thousands of followers know that George H. W. Bush was going back home.
He also informed that the team of doctors declared the 93-year-old was doing very well considering the poor state in which he first arrived at Methodist Hospital, as reported by The Washington Post.
Bush was hospitalized on April 22, one day after his wife and former First Lady of the United States, Laura Bush's, funeral. She was 92 years old and passed away on April 17.
Knowing that she didn't have much time on earth, Barbara refused further medical treatment after several trips to the hospital. Her death took a heavy toll on her husband, to whom she was married for 73 years.
The two had a very special relationship and they were considered to be inseparable. After her death, it was reported that the former President could have been suffering from Broken-Heart syndrome.
The condition would have aggravated his already frail health by increasing his heart rate and putting it under tremendous stress due to the grief of losing the woman he loved.
Now that Bush has returned home, McGrath explained that he wishes to go to Maine this summer in order to distance himself from the stressful environment that he had been living since Barbara's death.
Recently, the Methodist Hospital paid tribute to George and Barbara Bush by naming its new atrium after them. During the event, several portraits of the famous couple were also unveiled.
Bush didn't stay indifferent and, while at the hospital, took to his Twitter account to thank the medical institution for the moving gesture, as well as the staff for treating him with the utmost respect and kindness during his stay.
Please fill in your e-mail so we can share with you our top stories!