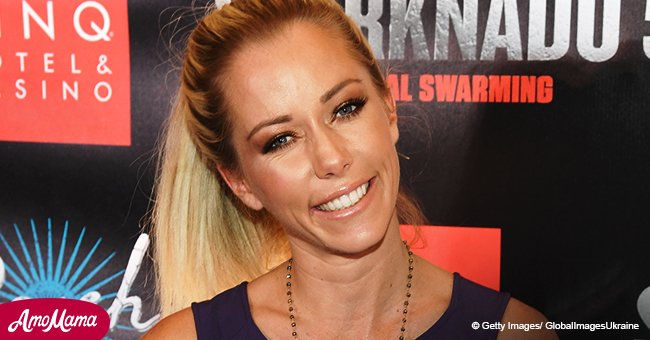 Kendra Wilkinson shares her makeover after split from Hank Baskett in new photos
Kendra Wilkinson has officially left her husband Hank Baskett, and she signified this new change in her life by switching from being blonde to brunette.
Many people are accustomed to the belief that changing something in the appearance of your hair symbolizes a 'fresh start', and that is exactly what Kendra did to get over a breakup.
"Today is the last day of my marriage to this beautiful man. I will forever love Hank and be open but for now we have chosen to go our own ways. I'm beyond sad and heartbroken because i did believe in forever, that's why i said yes but unfortunately too much fear has gotten in the way. We are both amazing parents and our kids will be happy n never know the difference other than seeing mama smile. Sometimes love looks funny. We are told to make sacrifices in life if it's true love well in this case it's me. I want to see happy Hank again... i miss that. Marriage was just a piece of paper and a piece of jewelry but our hearts will always be real. U will prob see us together a lot but it's because there's no hate. Love wins in this case it's just looks a little funny. Thank you Hank for a beautiful 8 years of marriage and 2 beautiful kids. I feel so thankful and blessed. "
The 32-year-old 'Kendra On Top' star recently revealed that she made the drastic hair change just a few weeks after she officially filed for divorce from her 35-year-old ex-husband Hank Baskett.
The couple's relationship has always been rocky, with rumors of fights and separation in between. Now, it seems Kendra has finally called it quits, and is ready to leave it all behind.
As previously reported by People, Wilkinson debuted her darker hair color in an Instagram post.
Being blonde was a very important part of Kendra's image back in the day, as she gained fame as one of Hugh Hefner's three blonde-haired girlfriends. Since then, she maintained that image until now that she's made the switch.
"Been wanting to experiment like this for a long time [and] here it is. So excited for this change but I'll always stay true to my roots."
Three weeks after she announced her divorce with NFL star Hank Baskett, she decided to dye her hair.
The ex-couple shared two children togetherm Hank IV, 8, and Alijah Mary, 3.
While the couple decided to separate, the ex-Playboy girl made sure it was clear that she still cares deeply for Hank, and that she will always love him.
The Baskett marriage was ripped apart when a 2014 cheating scandal struck them while Kendra was pregnant with their daughter. As reported by E! News, Kendra was so devastated that she flushed her wedding rings down the toilet.
Since then, their relationship has gone down hill and they've finally decided to call it quits.
Please fill in your e-mail so we can share with you our top stories!