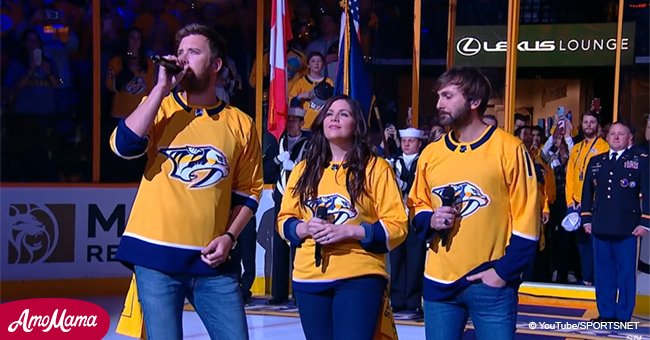 Lady Antebellum fails while singing the National Anthem in Nashville
Hillary Scott, Charles Kelley, and David Haywood, best known as Lady Antebellum, were in charge of performing the National Anthem at an NHL playoff game.
According to Pop Culture, the match took place at the Bridgestone Arena in Nashville, Tennessee, on May 5, 2018. The Predators, the local team that the trio supports, were ready to face the Winnipeg Jets when the arena announcer called in Lady Antebellum.
They stood on the ice wearing Predators' jerseys and began performing the Star-Spangled Banner in Layered harmonies. Kelley started singing and then Scott joined him.
At some point, however, they sang different lyrics that the audience and the players noticed. Thankfully for them, everyone just cheered and encouraged them to keep going and finish the anthem.
Scott sang the correct lyrics: "Whose broad stripes and bright stars through the perilous fight / O'er the ramparts we watched, were so gallantly streaming." Kelley, on the other hand, conflated different parts of the song in a very confident way.
When they finished singing, Kelley hugged Scott and they left the ice. They later took to Twitter to upload a photo that showed how embarrassed they were.
In it, Kelley was covering his face with both hands while Scott was gently touching his shoulder trying to comfort him. Haywood was next to them looking at the camera and shrugging.
They captioned it admitting that they were human too and that they kept supporting the Predators. As soon as they did so, fans and followers shared good-natured jokes to make clear that they were not upset.
Daniel Mitchell, a Twitter user, was one of them. After admitting that the picture was great, he confessed that mistakes happen and that they just have to smile and have fun out of them.
While surprising, it was not the first time that someone's National Anthem performance raised some browns as Fergie did something similar in February 2018. She did so at the NBA All-Star game when she gave the song a jazzy twist.
Roseanne Bar, who once gave an infamous rendition of the Star-Spangled Banner during a baseball game in 1990, jokingly confessed that Fergie's performance was worse than hers.
Please fill in your e-mail so we can share with you our top stories!