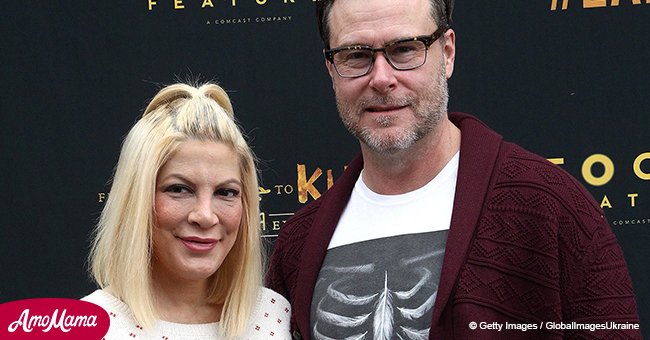 Tori Spelling and Dean McDermott leave their five kids at home to enjoy some alone time

Tori Spelling and Dean McDermott have taken a romantic trip to Hawaii together without their five kids.
The couple is currently in Hawaii and has just reached another milestone in their marriage. They celebrated their 12-year wedding anniversary and the 44-year-old mother-of-five revealed it was their first holiday alone together since their honeymoon.
As reported by Inquisitr, in a picture shared on social media, they were looking fabulous in front of a waterfall in the tropical location. Dean seemed to be enjoying the kid-free vacation, dressed in a plain white t-shirt and denim shorts.
Getting tanned under the Hawaiian sun, Tori put on a black singlet top with a sheer white lace skirt. The 90210 actress added shades to her look and styled her blonde tresses into a French braid.
"Paradise is upon us!" was the caption Tori put on the photo. "As a mom of 5, I don't know life without my kiddos. But, sometimes it's important to take time and remember the whole reason those 5 little blessings are in our lives… and that is a mad love that started with my soulmate @imdeanmcdermott."
Together, Tori and Dean have five children; daughters Stella, 9, and Hattie, 6, and sons Liam, 10, Finn, 5, and baby Beau, who just celebrated his first birthday. Tori is also the stepmother to Dean's son, Jack, 19, from his previous marriage.
The vacation appears to be much-needed, coming two months after the pair made headlines for a number of domestic disturbance calls made to police.
Police rushed to Tori's home in Los Angeles after a 911 caller reported that the celebrity was having a nervous breakdown. Officers were called on Thursday morning, March 1st after an anonymous call was made at around 7:00 am.
LAPD Officer Drake Madison later revealed the situation ended up being a 'domestic incident' and that 'no crime' was committed. He could not confirm who placed the call, but everything seems fine now.
Please fill in your e-mail so we can share with you our top stories!