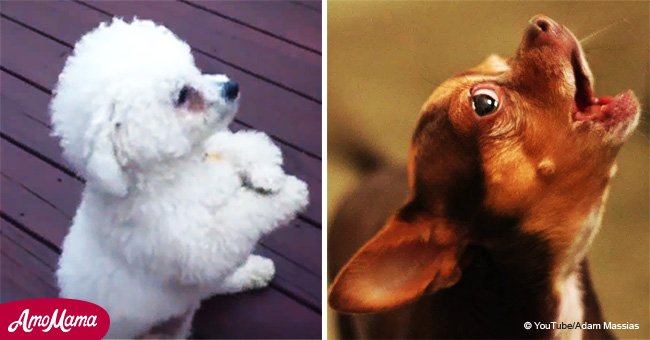 These dogs caught on camera making the most bizarre noises
Man's best friend – dogs – make us laugh by their strange antics.
NTD Funniest shared some of the weirdest sounds ever made by these funny dogs.
Dogs have stunned human beings since the beginning of the times and for a number of reasons. The video shows one of those reasons.
Some of them have made sounds one wouldn't expect from them. From the sound of a lawnmower to the sound of a bird, these dogs will surprise anyone watching the video.
The two and a half minute video starts with one puppy make a bird sound while wagging his tail at his owners.
The next in line is a pug making a weird noise that sounds like a human screaming as it stares right into the camera. It is sure to send chills down the spine
Another pug seems to be angry as it pulls something from its mouth and growls.
The next one responds to its owner whenever she asks him if it wants to go with her. The response is like a short laugh that could leave everyone in splits.
Another dog, standing on its hind legs, makes a strange sound that is unexplainable and ends it with a small bark.
A pit bull is considered a serious-looking dog. However, the pit bull in the video is not intimidating but absolutely funny. It makes a sound one would never expect from a pit bull and one is reminded of Steven Spielberg's Jurassic Park.
Next is a small dog that sounds almost human. It would leave a person wondering whether to laugh or be terrified.
Another pit bull, sitting in the backseat of a car, has its mouth in the side of the seat. It starts off making a sound like a bird and then trails off to making some unexplainable ones.
The next dog will remind a person of the fantasy movies that have animals talking. When its owner says, "Mama," the dog repeats. It sounds convincing as he mumbles the word.
As the video continues, one can hear noises that sound like that of a frog in the wild, someone screaming for help, etc.
One dog seems to be sleeping and it has the weirdest snores in the world, while another dog sounds like an infant crying. The funniest probably is a pug screaming for help with its tongue out gives a feeling that it is actually trying to escape its captors.
The video reinforces the fact that dogs are indeed humans' best friends who also make them laugh.
Please fill in your e-mail so we can share with you our top stories!